It's nice to see you here :) Stay tuned for some awesome emails every now and then as I come across some pretty cool stuff (and/or I'm feeling lonely, haha… j/k. Kinda.) I hope you get something out of these! Even if it's free money or deals ;) Feel free to email me anytime too.
Now do me the honor and accept this "Sexy Savers" certificate. Download it, put it on your wall, your fridge, your car window – wherever you'd like. You are a rock star, and we need to tell the world: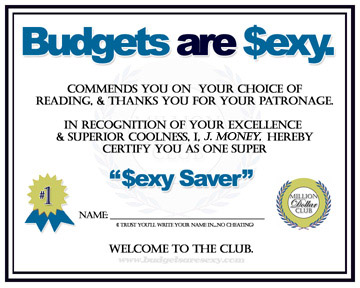 [Click to enlarge – Save to desktop – Print!]
Congrats on working towards financial freedom!


————-
PS: If you got here by accident, you can sign up to our V.I.P. Club here.
************
Bonus tip: Find a good "balance transfer" offer to help pay off debt faster!
If you've been making payment after payment (on time) and still haven't been able to get your debt under control, snatching up a good balance transfer credit card offer may be the ticket to try. That's where in order to gain your business - credit card companies will let you transfer your existing debt to a new card and let you pay ZERO PERCENT interest on it. Saving you tons every month!
What's the catch? Usually balance transfer cards charge a fee (around 3% of your debt balance) to let you transfer your balance to their 0% interest offer. But we've found a great credit card that will let you do a balance transfer absolutely free. Click here to learn more and see if you qualify!
PS: If you don't trust yourself with another credit card, ignore this! This strategy is to help you get out of debt quicker, not risk adding more to it.