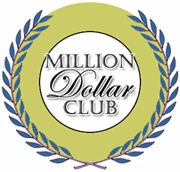 Welcome to J's Million Dollar Club! If you've ever dreamed about becoming a millionaire – and you actually want to DO SOMETHING about it – you're in the right place!
Can you imagine how killer it would be logging into your accounts one day and seeing a cool million there? I've been all about it the past couple years and there's really nothing stopping me now. I've got the desire, the patience, and more importantly the game plan! (what this post is all about).
And I'd love for you to join! Check out my "millionaire to-do list" below and then create one for yourself. It doesn't have to be much, just make sure it's realistic so you'll actually go through with it. Then review it every once in a while to remind yourself WHY you're saving so much more than all all those crazies around you ;) After that, just keep Motivated! "The Automatic Millionaire" and "The Millionaire Next Door" are excellent books for this. All the plan really entails is time and habits. You master those and it's easy breezy my friends! (besides, of course, finding the money to invest). But regardless, you have to start NOW.
In order for me, J. Money, to become a millionaire, I pledge to do the following (each year):
Max out my 401(k) Self-employed now!
Save/invest 1/2 of all future bonuses.
Max out my SEP IRA.
Max out my Roth IRA.
Continue living more minimalistically.
Sell unwanted stuff on Craiglist :)

$16,500 invested + $16,500 matched!
$2,500 *currently frozen…
$15,000 invested –> stocks, funds
$5,000 invested –> stocks, funds
$3,000 est.
$500 est.
That would mean a total of $23,500/yr if I could pull that off! Using CNN-Money's millionaire calculator with a conservative interest of 6%, and stripping away taxed vs. non-taxed money along with inflation, I will see a cool $1 Million in approx. 12 years and 9 months!
This means I will become a millionaire by the time I'm 43 45!
That $1 million might not actually be *worth* $1 million by then (and I can't predict future returns), but to be honest that's not what it's about for me. All I want is the ABILITY to retire happily with no concerns about money at all. And I'm pretty damn sure being a millionaire would cover that ;)
***UPDATE*** 10/6/11 Since being laid off in January and now being self-employed (woohoo!) I have updated these numbers :) They're not *as* sexy as before, but we're still creeping up towards millionaire status as we go along! And with our new Mortgage Payoff Plan in works, I'll need a LOT less than $1Mil to be happy now… not to mention how much MORE I'll have left over in 10 years once I'm 100% debt-free!! WOO!! Gotta keep tweaking our plans as life goes on :)
————————————————————————————
So what do ya say – ready to join the club? Get your own pledge jotted down, and then link back or leave a comment and I'll add ya to the list! Here are the current soon-to-be millionaires:
James

@ DINK's Finance

Ginger

@ Ginger Won't Snap

Erica

@ Erica's Funny Farm

Brian

@ My Next Buck –> Brian's millionaire list

Brad

@ Enemy of Debt –> Brad's millionaire list

Paul

@ Fiscal Geek

Shawanda

@ You Have More Than You Think –> Shawanda's millionaire list

Financial Samurai

–> Financial Samurai's millionaire list

Brandi

@ A Life Change: My Journey To Happiness

Yellow Piggy Bank

Michelle

@ Penny and Nickel to Wealth –> Michelle's millionaire list

O1SP03

@ Five Girls Ditching Debt

Megan

@ Student Charade –> Megan's millionaire list

LuLu

@ How I Save Money –> LuLu's millionaire list

Lisa

@ Cents To Save –> Lisa's millionaire list

Jayde Moss

@ Making Me a Millionaire –> Jayde's millionaire list

Broke M.B.A.

@ The Broke M.B.A –> Broke's millionaire list

Ryan

@ Planting Dollars –> Ryan's millionaire list

Roger

@ The Amateur Financier –> Roger's millionaire list

The Financial Blogger

–> Financial Blogger's millionaire list

Money Wise 24

–> Aleks' millionaire list

BudgetBabe

@ Lean with Green –> BudgetBabe's Millionaire List

Sabrina

@ Freedom 45 –> Sabrina's Millionaire List

Clayton

@ Just Good Financial Advice

YoungAndThrifty

–> Young And Thrifty's Millionaire List

Jeff Kosola

@ Deliver Away Debt –> Jeff's Millionaire List

Money Handler

@ Money Handler's millionaire list

Broke by Choice

@ If I Were a Wealthy Girl–> Broke by Choice's millionaire list

Money Reasons

–> Money Reasons' millionaire list

Jane

@ See Jane Get Rich –> Jane's millionaire list

Barbara Bryn Klare

@ Upside of Money

Meghan Fife

@ Thoughts on the Real Life

Ciawy

@ Run, Work and Save

Benjie

@ Zordane –> Benjie's millionaire list
AP @ Aspiration's Purse –> AP's millionaire list
FinEngr @ Engineer Your Finances –> FinEngr's millionaire list
Harvest Wages
Matt @ Dividend Monk –> Dividend Monk's millionaire list
Budgeting In The Fun Stuff
Anon Lawyer @ Thoughts of an Anonymous Lawyer –> Anon's millionaire list
Moneymonk –> Moneymonk's millionaire list
Saving Savy Pinky –> Pinky's millionaire list

Utbytte –> Utbytte's millionaire list
Darren @ More Than Finances –> Darren's millionaire list
Meg @ World of Wealth
MFO @ My Financial Objectives –> MFO's millionaire list
Jeffrey Mitchell
Ashley Jacobs @ CashFlow Sherpas
FrugalGuy @ Frugal Revolution –> FrugalGuy's millionaire list
Anthony @ Diversify Your Life
Matt @ Better Me Self (awesome name!)
MoneyMan @ Financial Odyssey –> MoneyMan's millionaire list
Wendy P.
Bobby
Stu @ Pennywise2Pennyworth –> Stu's millionaire list
Ginger @ Frugal Students – Starting a New Life –> Ginger's millionaire list
Will @ Frugal Norwegian –> Will's millionaire list
Money Rabbit
Chris Parsons @ Small Biz Big Dreams
Divas With Cents
Jack Crown @ Stock Dividend
BigChrisB @ Debt Digger –> Big Chris' millionaire list [The first one to a million! Congrats!!]
Catherine @ Blugoo Girl –> Catherine's millionaire list
Eric @ Post Grad Agenda –> Eric's millionaire list
Jamie J @ The Bottom Rung –> Jamie J's millionaire list
Jon @ Free Money Wisdom
Rob. T. T.
Angie
Jane Sanders @ Debt Management.net –> Jane's millionaire list
Dani @ OK, Dani –> Dani's millionaire list
Nitza @ Nitza's Pizza –> Nitza's millionaire list
Brian @ Treasure Freedom
Aspiring Millionaire @ Aspiring Millionaire.com –> Aspiring's millionaire list
Multi-Millionaire Before 30 –> Multi-Millionaire's list
Kelsey Horner @ Zero To One Million Challenge –> Kelsey's millionaire list
Kody @ Financial Money Tips –> Kody's millionaire list
Steve Ryan @ Smart Wealth
Jeff @ My Multiple Streams –> Jeff's millionaire list
T. Thema Martin @ Savionaire
John @ Frugal Gearhead –> John's millionaire list
Rich Uncle El @ Money Watch 101 –> Rich Uncle El's millionaire list
Long @ Budget For Wealth –> Long's millionaire list
Cameron Cohen
Shondell @ Call Me What You Want, Even Cheap! –> Shondell's millionaire list
Busy Executive @ The Busy Executive Money Blog
Jai
Obodden
Alunda @ My Take on Money –> Alunda's millionaire list
Victoria @ Lend Not Borrow –> Victoria's millionaire list
Mikayla – (List below in comments)
CrystalH @ Sophisticated Spender –> CrystalH's millionaire list
DC @ Young Adult Money –> DC's millionaire list
Oyinda – (Listed below in comments)
MB @ 12 Year Career
Mike Collins @ Wealthy Turtle –> Mike's millionaire list
Just Pay It Off –> JustPayItOff's millionaire list
DZ @ Debtzilla –> DZ's millionaire list
Lena @ What Mommy Does –> Lena's millionaire list
Jim
RevenueKing
Tarragonisntjustaspice
Jeremy @ My Financial Road
Abbie Stokes @ Finance Junkie –> Abbie's millionaire list
Ma rio @ Debt Blag
Free Money Minute –> Free Money Minute's millionaire list
————————————————-
Badge Code: