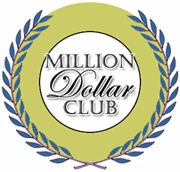 Welcome to J's Million Dollar Club! Ya gotta start somewhere…wanna figure out how to become a millionaire? If you've ever dreamed about becoming a millionaire – and you actually want to DO SOMETHING about it – you're in the right place!
Can you imagine how killer it would be logging into your accounts one day and seeing a cool million there? I've been all about it the past couple years and there's really nothing stopping me now. I've got the desire, the patience, and more importantly the game plan! (what this post is all about).
And I'd love for you to join! Check out my "millionaire to-do list" below and then create one for yourself. It doesn't have to be much, just make sure it's realistic so you'll actually go through with it. Then review it every once in a while to remind yourself WHY you're saving so much more than all all those crazies around you ;) After that, just keep Motivated! "The Automatic Millionaire" and "The Millionaire Next Door" are excellent books for this. All the plan really entails is time and habits. You master those and it's easy breezy my friends! (besides, of course, finding the money to invest). But regardless, you have to start NOW.
In order for me, J. Money, to become a millionaire, I pledge to do the following (each year):
$16,500 invested
$2,500 *currently frozen…
$3,000 est.
$500 est.
$11,000 invested –> Index funds
$5,500 invested –> Index funds
That would mean a total of $22,500/year $16,500/year if I could pull that off! Using CNN-Money's millionaire calculator with a conservative interest of 4%, I will see a cool $1 Million in approx. 11 years!
This means I will become a millionaire by the time I'm 43
46

!

That $1 million might not actually be *worth* $1 million by then (and I can't predict future returns), but to be honest that's not what it's about for me. All I want is the ABILITY to retire happily with no concerns about money at all. And I'm pretty damn sure being a millionaire would cover that ;)

[FYI: A cool, and free, place to track all your money is Personal Capital. You attach all your accounts similar to Mint, and it spits you out a nice "snapshot" of all your money/investments/etc. Plus your net worth! So you can track it every month vs. checking the calculator every few years ;)]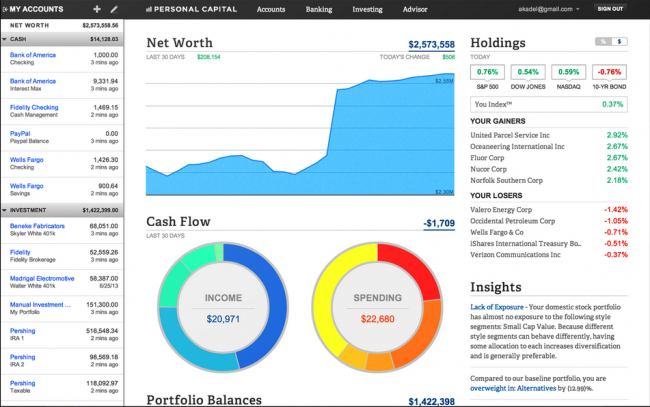 It has a ton of other cool features to help you grow your $$$ as well. You can grab your free account here.
Want to see where our net worth is right now? Click here.
***UPDATE #1*** 10/6/11 Since being laid off in January and now being self-employed (woohoo!) I have updated these numbers :) They're not *as* sexy as before, but we're still creeping up towards millionaire status as we go along! And with our new Mortgage Payoff Plan in works, I'll need a LOT less than $1Mil to be happy now… not to mention how much MORE I'll have left over in 10 years once I'm 100% debt-free!! WOO!! Gotta keep tweaking our plans as life goes on :)
***UPDATE #2*** 5/20/13 We're back to hitting $1 Mil earlier again! Two+ years of being self-employed now and so far so good :) Here's an update on this club we just posted about: We've got our first millionaire member! Hope the rest of you are hustling just as hard too!
***UPDATE #3*** 2/17/14 I've started a Net Worth Tracker over at my other site, RockstarFinance.com for anyone interested in seeing a bunch of bloggers' net worths all on one page :) Helps to inspire AND show you that we're all at different phases of our lives…
***UPDATE #4*** 2/18/15 While I'm still on the hunt to become a millionaire, I'm realizing more and more that it's not about the money so much as it is about what money gets you: FREEDOM. Freedom from stress, from doing jobs you hate, and freedom from any other nonsense out there prohibiting you to live a life on your own terms. Having a million dollars in the bank may allow many of you to reach this, but after putting together an Early Retirement / Financial Freedom spreadsheet, it turns out I'll need more than that now that I have a family of four and no longer a bachelor from 7 years ago writing this article :) I encourage you to download it and plug in your own numbers as well to see what you'd need!
————————————————————————————
Ready to join the club?
Get your own pledge jotted down, and then link back or leave a comment and I'll add ya to the list! Here are the current soon-to-be millionaires:
James

@ DINK's Finance [Now a millionaire!!! Breakdown here]

Ginger

@ Ginger Won't Snap

Erica

@ Erica's Funny Farm

Brian

@ My Next Buck –> Brian's millionaire list

Brad

@ Enemy of Debt –> Brad's millionaire list

Paul

@ Fiscal Geek

Shawanda

@ You Have More Than You Think –> Shawanda's millionaire list

Financial Samurai

–> Financial Samurai's millionaire list

Brandi

@ A Life Change: My Journey To Happiness

Yellow Piggy Bank

Michelle

@ Penny and Nickel to Wealth –> Michelle's millionaire list

O1SP03

@ Five Girls Ditching Debt

Megan

@ Student Charade –> Megan's millionaire list

LuLu

@ How I Save Money –> LuLu's millionaire list

Lisa

@ Cents To Save

Jayde Moss

The Broke M.B.A.

Ryan

@ Planting Dollars –> Ryan's millionaire list

Roger

@ The Amateur Financier –> Roger's millionaire list

The Financial Blogger

–> Financial Blogger's millionaire list

Money Wise 24

BudgetBabe

@ Lean with Green –> BudgetBabe's Millionaire List

Sabrina

@ Freedom 45 –> Sabrina's Millionaire List

Clayton

@ Just Good Financial Advice

YoungAndThrifty

Jeff Kosola

@ Deliver Away Debt

Money Handler

@ Money Handler's millionaire list

Broke by Choice

@ If I Were a Wealthy Girl

Money Reasons

–> Money Reasons' millionaire list

Jane

@ See Jane Get Rich

Barbara Bryn Klare

@ Upside of Money

Meghan Fife

@ Thoughts on the Real Life

Ciawy

@ Run, Work and Save

Benjie

@ Zordane
AP @ Aspiration's Purse
FinEngr @ Engineer Your Finances –> FinEngr's millionaire list
Harvest Wages
Matt @ Dividend Monk –> Dividend Monk's millionaire list
Budgeting In The Fun Stuff
Anon Lawyer @ Thoughts of an Anonymous Lawyer –> Anon's millionaire list [OUR 2nd MILLIONAIRE WHO'S MADE IT! Congrats!!]
Moneymonk
Saving Savy Pinky

Utbytte –> Utbytte's millionaire list
Darren @ More Than Finances –> Darren's millionaire list
Meg @ World of Wealth
MFO @ My Financial Objectives
Jeffrey Mitchell
Ashley Jacobs @ CashFlow Sherpas
FrugalGuy @ Frugal Revolution
Anthony @ Diversify Your Life
Matt @ Better Me Self (awesome name!)
MoneyMan @ Financial Odyssey
Wendy P.
Bobby
Stu @ Pennywise2Pennyworth –> Stu's millionaire list
Ginger @ Frugal Students – Starting a New Life –> Ginger's millionaire list
Will @ Frugal Norwegian –> Will's millionaire list
Money Rabbit
Chris Parsons @ Small Biz Big Dreams
Divas With Cents
Jack Crown @ Stock Dividend
BigChrisB @ Debt Digger –> Big Chris' millionaire list [The first one to a million! Congrats!!]
Catherine @ Blugoo Girl
Eric @ Post Grad Agenda –> Eric's millionaire list
Jamie J @ The Bottom Rung
Jon @ Free Money Wisdom
Rob. T. T.
Angie
Jane Sanders @ Debt Management.net
Dani @ OK, Dani –> Dani's millionaire list
Nitza @ Nitza's Pizza –> Nitza's millionaire list
Brian @ Treasure Freedom
Aspiring Millionaire @ Aspiring Millionaire.com –> Aspiring's millionaire list
Multi-Millionaire Before 30 –> Multi-Millionaire's list
Kelsey Horner @ Zero To One Million Challenge
Kody @ Financial Money Tips –> Kody's millionaire list
Steve Ryan @ Smart Wealth
Jeff @ My Multiple Streams –> Jeff's millionaire list
T. Thema Martin @ Savionaire
John @ Frugal Gearhead
Rich Uncle El @ Money Watch 101 –> Rich Uncle El's millionaire list
Long @ Budget For Wealth –> Long's millionaire list
Cameron Cohen
Shondell @ Call Me What You Want, Even Cheap! –> Shondell's millionaire list
Busy Executive @ The Busy Executive Money Blog
Jai
Obodden
Alunda @ My Take on Money –> Alunda's millionaire list
Victoria @ Lend Not Borrow
Mikayla – (List below in comments)
CrystalH @ Sophisticated Spender
DC @ Young Adult Money –> DC's millionaire list
Oyinda – (Listed below in comments)
MB @ 12 Year Career
Mike Collins @ Wealthy Turtle –> Mike's millionaire list
Just Pay It Off –> JustPayItOff's millionaire list
DZ @ Debtzilla –> DZ's millionaire list
Lena @ What Mommy Does –> Lena's millionaire list
Jim [Another member who's made it! CONGRATS, Millionaire!]
RevenueKing
Tarragonisntjustaspice
Jeremy @ My Financial Road
Abbie Stokes @ Finance Junkie
Ma rio @ Debt Blag
Free Money Minute –> Free Money Minute's millionaire list
Anton Ivanov @ Dreams Cash True
Paul – (list is in comments below)
Alex – (list is in comments below)
Leona @ All My Dollars and Cents
Anne – (list is in comments below)
Christine @ ThePursuitofGreen –> Christine's millionaire list
EJ @ My Millionaire Status Dream –> EJ's millionaire list
Kim @ Eyes on The Dollar –> Kim's millionaire list
Mel @ Broke Girl Rich
Izzye G
Corinne Hoener
Deacon Hayes @ Well Kept Wallet
S Dot
Graham @ Money Stepper
Fiona
Kirby @ TheSimpleMoneyBlog
Bobby @ Making Money Fast and Slow –> Bobby's millionaire list
Jessi Mendoza
Flori
Franklin B
Lisa E. @ Lisa vs. The Loans –> Lisa's millionaire list
Deacon Hayes @ Well Kept Wallet –> Deacon's millionaire list
Mama Breeze @ Following Life's Breeze
Krista and John @ 2 Copper Coins –> Krista and John's millionaire list
MITM @ Naked Budgeting
Shannon — Hit millionaire status on 8/10/16!!! Congrats!!
Mr Ikonz @ Project Ikonz
Money Journal @ Zac's –> Zac's millionaire list
No Nonsense Landlord –> Going for $1 Million in *liquid* net worth!
John C. @ Action Economics –> John's millionaire list
F2P @ Free To Pursue –> F2P's millionaire list
Derek @ Derek and Carrie –> Derek's millionaire list
Ndy
Guillaume
Cody Wheeler @ Academy Success –> Cody's millionaire list
Single Dad @ Single Dad Living –> Single Dad's millionaire pledge
Kim @ A Sister Livin' Better
Journey To Total Freedom
Darlene (list is below in the comments)
Teresa (list is below in the comments)
Tim Seidler @ Get Niche Quick –> Tim's millionaire pledge
Elisha Buffet @ Warren Buffet Wannabe –> Elisha's millionaire pledge
Gauthamy
Taylor Lee @ Engineer Cents
Jeff @ Middle Class Success –> Jeff's millionaire pledge
Happy Frugaler @ The Happy Frugaler –> Happy Frugaler's millionaire pledge
US (millionaire list below in comments)
Kelly @ Money Millennial
Fervent Finance –> Fervent Finance's millionaire pledge
MP @ Mustachian Post –> MP's millionaire pledge
M/M Kash – list is below in comments!
Gene Roberts – list is below in comments!
Joshua Whitaker
Swetha (millionaire list below in comments)
My Road to Wealth and Freedom –> millionaire pledge
Aja McClanahan @ Principles of Increase
The Captain @ The Pirates Life For Me –> The Captain's millionaire pledge
Gen Y Finance Guy –> Gen Y Finance Guy's millionaire pledge
The Money Mine –> Nick's millionaire pledge
Live Debt-free in NYC –> Sara's millionaire pledge
Debt Free Fanatic –> Miranda's millionaire pledge
Mario – list is below in comments!
Beards and Money –> Dr Beard's millionaire pledge
Fiprogress –> Fiprogress' millionaire pledge
Stacey – list is below in comments!
The Finance Games –> millionaire pledge
The Green Swan –> millionaire pledge (The first blogger who already *has* a million dollars but is going for multi-millionare status! ;))
DauvO –> millionaire pledge
Dave — pledge below in comments!

*NEW*

Miss Mazuma –> millionaire pledge

*NEW*

Dollar Engineer –> millionaire pledge

*NEW*

A4L –> millionaire pledge

*NEW*

Travel Travel & Retire! –> millionaire pledge

*NEW*

Our Financial Path –> Xyz's millionaire pledge

*NEW*

The Millionaire Educator –> Ed hit a million dollars! Now working towards a trillion :)

*NEW*

Solving Finance –> Finance Solver's millionaire pledge
————————————————-
Badge Code:
Featured savings tip
You already know that banks pay $$$ for the privilege of holding your money…it's called interest. But maybe you didn't know this: that so-called interest can be as little as .01%. If your cash savings aren't sitting in a high interest savings account that earns you at least 1%, you're basically saying "no" to free $$$!
Now, obviously the 1% interest you get with a high interest savings account like the one at Discover bank won't make you rich, but that extra 1% compounded over 30 years can grow into a *big* pile of cash. And if you wanna hit lofty $$$ goals, you should be looking for every edge possible.
Here's another way to look at it: if you leave $50,000 in a regular savings account, that's almost $500 you're just throwing away, each and every year you don't setup a high yield savings account! Will you do 5-10 minutes of work right now to earn an extra $500/year for years to come?
If you said "heck yes", then you can setup your high interest savings account here to start earning 1% on your cash savings.