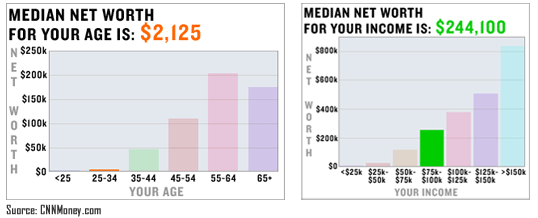 I recently found this tool (and MANY others) on CNNMoney.com, and it's pretty freakin' interesting. It just asks for your age and your yearly income, and it plops you out a couple of nice and simply graphs. The first shows the average "net worth" for your age-group (as posted to the left), and the second shows the average "net worth" for your particular income level.
Both graphs are pretty cool to see. That first one is SCARY though! Can you believe that? man…. luckily, i'm WAY better off than the average in this group (Opah!), but my $66k is wayyyyy below the average for my income level. Age plays a huge part in this ofcourse, as I've only been at this salary for less than a year, so I'm just hoping i can stick with it and/or increase it for years to come!
Give it the old college try, and see how you compare. Hopefully you'll be on top of at least one of the graphs! And if not? Well, now you have something to strive for. Just keep reading the blogs to help pump you up ;)
*I've also just added a new section of helpful links*
It can be found on the left column, and it links to some pretty sweet tools & calculators out there. So far I have the following:
I'll be updating/revising them over time, so feel free to holler if you'd like to see a special on in particular, or even if you have found a more helpful one.
PS:
A handful of ways to track your money and/or net worth: