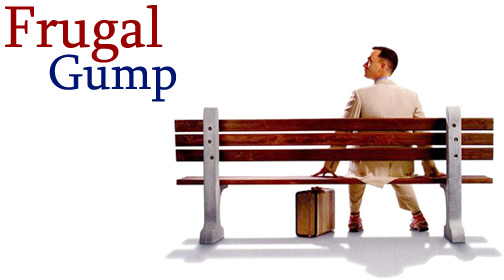 Hello, and welcome to this week's
Festival of Frugality
!
It's a bit scary hosting one of these things all by myself for the first time, so I brought along a good friend of mine today – Mr. Frugal Gump. I hope you don't mind ;) As many of you know, Frugal has led a very financially rewarding life, and I thought we could all learn from an experienced man like himself.
We sorted through all the chocolates in this week's box of frugality, and now share them with you for all to enjoy. We hope you get as much out of them as we did!
Mr. Gump and I's Favorite Picks
"Mama always had a way of explaining things so I could understand them."
I couldn't agree more! And when it comes to personal finance, there can be some pretty complicated issues out there. Lucky for us, we have some pretty fabulous bloggers who can break it down and get the points across easily – and we love them for it. Here's to our favorite picks this week, and here's to mama!
Getting From Here, to There
"
Now you wouldn't believe me if I told you, but I could run like the wind blows. From that day on, if I was ever going somewhere, I was RUN-NING!"
We live in a different world that Mr. Gump these days, and unfortunately we can't rely on our feet to get us where we need to be all the time. We're not totally out of luck though! Check out these bad boys for some great travel tips to help lighten the load this week.
Earth Will Love You
"It was so clear, Jenny, it looked like there were two skies one on top of the other. And then in the desert, when the sun comes up, I couldn't tell where heaven stopped and the earth began. It's so beautiful."
Mother Earth loves you, so it's time to love Mother Earth back! Here are some green pointers to help get you started.
Frugal is, as Frugal Does
"The best thing about visiting the President is the food! Now, since it was all free, and I wasn't hungry but thirsty, I must've drank me fifteen Dr. Peppers."
Enjoy these frugal-tastic posts by some pretty damn frugal bloggers ;)
Summer Lovin'
"And cause I was a gazillionaire, and I liked doin' it so much, I cut that grass for free."
While we can't do everything for free this Summer, we sure can cut down on the costs! Peruse through some of these articles for helpful tips this season.

Questions, Questions Everywhere
"Now for some reason I fit in the army like one of them round pegs. It's not really hard. You just make your bed real neat and remember to stand up straight and always answer every question with "Yes, drill sergeant."
These bloggers throw out some thought-provoking questions. Luckily, they give you the answers too ;) And before you ask, "Yes, drill sergeant" isn't one of them (Sorry Gump).
Investing & Saving
"Lieutenant Dan got me invested in some kind of fruit company (Apple). So then I got a call from him, saying we don't have to worry about money no more. And I said, that's good! One less thing."
Oh man, i love that quote :) That Gump is hilarious! But it's true – you get investing/saving down pat, and you can continue on living happily knowing your money's working for you. Of course, getting a firm grip on it is the hard part, so perhaps these will help!
Coupons & Discounts
"Oh, yes sir. Bit me right in the buttocks. They said it was a million dollar wound, but the army must keep that money 'cause I still haven't seen a nickel of that million dollars."
You can never have too many coupons, or discounts for that matter. You won't always remember to bring them when you go shopping, but that's another story altogether ;) Here's a whole mess of goodies for ya.

Other Random Goodness
"When I was in China on the All-American Ping Pong team, I just loved playing ping-pong with my Flexolite ping pong paddle. "
Some other good financial stuff I couldn't quite tell where to put. "Random" categories are like boxes of chocolate – you never know what you're gonna get (I'm sorry, Gump REALLY wanted to put that in here).
WOW, so this beats my record for longest post! haha… It is now time for Mr. Gump and I to hit "publish", and rest our tired little fingers. We hope you find some great articles in here! And if you like what you saw, think about signing up to my feed :)
Be sure to check out next week's festival over at Squawkfox. Thanks everyone!
We recommend: