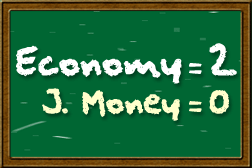 Yup, it's offical! They are frozen for a "while". I can't say it's all too surprising though – the last one we've received was back in February! haha….I'm just hoping it'll pick up as the economy does, but who really knows.
While i'd like to bitch and moan about it, i really can't without coming off as a spoiled employee ;) I've been getting a free $2,000 every 3 months which sure ain't part of the job, ya know? Now, if i were in sales that would be one thing, but we're a small start up and it's more about sharing ownership in the company than direct performance.
Still, it's what….$8k a year that i was sorta-kinda-but-not-really counting on ;) Luckily it's not part of my budget at all, which is something my dad once taught me growing up – they're called a "bonus" for a reason. It will, however, delay a few yearly goals:
Oh how i shall miss you, Bonus! It just goes to show that you can't ever count on anything these days, no matter how stable your job may be. That, and being financially responsible is always in your best interest!
There's talk that they will resume during Xmas time, and possibly with even retro-pay, but i'm not counting on it…that's like my Redskins winning the Superbowl ;)