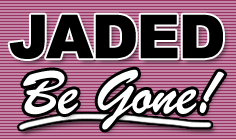 I LOVE my job, don't get me wrong, but every now and then I have to sit down and remember all of the reasons WHY I work where I do.
And these days, it's more the "now" part, than the "then" ;) After a while we all start forgetting the perks of the office, and start focusing on the annoyances here and there. But the second you're out of a job, allllllll those niceties you took for granted start flooding your brain!
So, today, I'm going to list every single positive thing I can think of @ my company. Some of the stuff might come out as bragging – but I swear to you it's not the reason for all this. The point of it all is to keep me grounded and have a list that I can reflect upon the second I think of spouting my "F You's" to everyone circa Half Baked! haha….remember that? "F you, F you, you're cool, and f**k you, I'm out!" That's brilliant.
Of course, no one in their right mind would ever go down such a path, but this list will certainly make sure of that :) So here it is – All of the things (in no particular order) that get me up in the morning and excited for work:
The paycheck: $75,000. a HUGE incentive.
The bonuses: $2,000 per quarter (although currently frozen)
The dresscode: Dress as you wish, as long as it's not offensive. Some wear business casual, while others (*cough cough*) show up in jeans and a t-shirt every day… w/ a little bling to boot.
The atmosphere: A bit like Google in that we work hard, and play even harder!
The coffee: Free unlimited Starbucks on the house.
The fridge: Always stocked with drinks, yogurts, snacks, and BEER! mmm…..
The 401k: 100% matching, up to the legal amount. So if you put in say $10k this year, our company will match that $10k this year – fully vested! This is one of my all-time favorite perks.
The work itself: Absolutely fantastic. My position fluctuates depending on the projects at hand, but I'd say it's broken down into 3 specific areas: Managing customer service, Projects, and Graphic Design. All of which I enjoy doing 100%… even, and especially, the customer service part. It seems insane, but being an advocate for the consumer is very rewarding!
The people: Fairly young – half in their twenties, and the other half in their thirties.
The health insurance: Excellent, as far as I've used it! (we'll see what happens after the gallbladder fiasco though) 100% fully covered by our company for now. It'll probably raise this next year, but nothing too substantial.
The communication: Everyone's doors are open for talks – literally, we all keep them open :) That's not to say that ideas, advice, etc will be accepted all the time, but at least you're heard no matter your rank.
The downtime: Changes on a day to day basis, but let's just say there's enough time to check your email, facebook, myspace, blogs, etc.
I think that's pretty much it. There are a few other things here and there that are freakin' rad as hell, but I'm afraid they're too specific to mention… in fact, I probably said too much already. It's all good though, better for someone to call me out on positive stuff than negative, eh? Oooooh, that would actually be an excellent part II post – "The reasons why my job SUCKS post!" haha…. maybe when I'm long gone ;)
I have to say, I'm feeling better already! I'm telling you, writing all of this stuff down REALLY gets your mind right, you should try it. Start by leaving a comment with your own favorite perk or two on here :) It'll be one happy a$$ list of good stuff to read. Gotta love that!