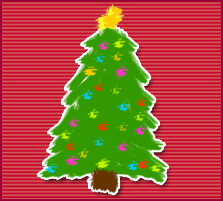 We here at Budgetsaresexy.com love ya! And we only want the best for our awesome as hell readers :) Here are today's Do's & Don'ts – you listen up:
Do's today: open lots of presents. be thankful. drink a lot of beers. hang out w/ a lot of family. be merry!
Don'ts today: be upset that you didn't get ___. curse God, Jesus, or any other religious figure. be sad. do anything naughty, unless it's the *good* kind of naughty ;)
************
Bonus tip: Find a good "balance transfer" offer to help pay off debt faster!
If you've been making payment after payment (on time) and still haven't been able to get your debt under control, snatching up a good balance transfer credit card offer may be the ticket to try. That's where in order to gain your business - credit card companies will let you transfer your existing debt to a new card and let you pay ZERO PERCENT interest on it. Saving you tons every month!
What's the catch? Usually balance transfer cards charge a fee (around 3% of your debt balance) to let you transfer your balance to their 0% interest offer. But we've found a great credit card that will let you do a balance transfer absolutely free. Click here to learn more and see if you qualify!
PS: If you don't trust yourself with another credit card, ignore this! This strategy is to help you get out of debt quicker, not risk adding more to it.