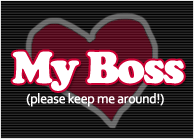 Well my damn if today just keeps getting better ;) First Budgetsaresesexy gets on MSN's Smart Spending, and now our Xmas bonuses just popped outta thin air! Have i been doing extra good deeds that i'm not aware of?
I must admit it's starting to restore my confidence in our employment, that's for sure!This new info means that a) our company has money (yayy!!!!!), and b) the ol' boss appreciates all our hard work this year. If that doesn't boost company morale, i don't know what will.
How much did we all get? $1,500.00 a piece! No special considerations, no scale, no b.s. – just an equal "thank you" for every one of us :)
So what does that mean in terms of take-home pay? Well, it'll probably go a little something like this: $1,500 (original) – $750 (est. taxes) = an extra $750.00 in the pocket! You can't see me, but i'm doing the happy chicken dance right here in my chair.
And naturally i already have a plan for this money – $610 of it will go towards my Holiday Gift Budget (as previously alluded to), and then the remaining $140.00 will go towards Mrs. Budgetsaresexy's Bday presents since she's a December baby like me :) And *then* if anything survives this massive shopping extravaganza, the rest will get applied to my outstanding credit card/auto loan balance. Always gotta have a plan baby!

So THANK YOU boss-man, you have made one little boy's Xmas as merry as it can be this year! And to show my thanks, i shall now get back to doing actual work and stop stealing company time ;) God bless each and every one of you, and may this stream of good news hit you all too!