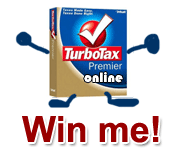 Yup, all you have to do is tell me what you're up to these last few days of Winter and a copy could be yours! My girl Priya hooked me up with 2 codes to get TurboTax Premier Online FREE (est. @ $85) and each includes one free federal + state preparation + e-files.
If you're a slacker and still need to file away, then here's your chance. (Or if you know someone else who you could win it for!) Just be sure to drop a comment by Monday morning @ 7 a.m. and I'll randomly select the winner and update this page to get your info, etc. And don't worry, i'll use one of those random generator thingies to be legit – so while i love hearing how awesome and clever I am (thank you, thank you) it won't sway your chances ;)
So, what will you be doing this next week? I'll go first since I've already filed away and taken back my money a month ago…I, J. Money, shall blog a bit, relax a bit, and take my girl out on a date to go see tonight's premier of "I Love You, Man!". I heard it was supposed to be craaaaazy funny! I'll probably update my budget a bit too and make sure all my monies are behaving and not skipping out on me….Your turn.
*The winners have been selected*
************
Bonus tip: Find a good "balance transfer" offer to help pay off debt faster!
If you've been making payment after payment (on time) and still haven't been able to get your debt under control, snatching up a good balance transfer credit card offer may be the ticket to try. That's where in order to gain your business - credit card companies will let you transfer your existing debt to a new card and let you pay ZERO PERCENT interest on it. Saving you tons every month!
What's the catch? Usually balance transfer cards charge a fee (around 3% of your debt balance) to let you transfer your balance to their 0% interest offer. But we've found a great credit card that will let you do a balance transfer absolutely free. Click here to learn more and see if you qualify!
PS: If you don't trust yourself with another credit card, ignore this! This strategy is to help you get out of debt quicker, not risk adding more to it.