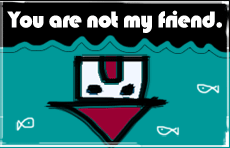 Yep, not even my beloved USAA can save us from this one. Apparently we're TOO under water to refinance. Since when is $60k in the negative TOO much? ;) haha…ah well, it was worth a shot.
But what's really frustrating, if you'll allow me to say so, is the fact that there are, indeed, people who can/will be able to refi because they made some huge boo-boos.
That's great for them, and certainly for our economy in general, but what about the others who behaved and played by the rules? Shouldn't WE be granted some help as well considering we also took it up the a$$? This affects more than the people who helped us get in this mess to begin with. (emphasis on *helped* here as we all know there were many other factors stirring the pot.)
The Mrs. and I aren't perfect little badgers, but we should still be granted some sort of equal rights. We pay our mortgage on time, we didn't get too over our heads, and we were responsible. Shouldn't that count for something? Are we being greedy here? Whatever….I'll go ahead and stop now. I'm sure everyone's tired of hearing about this stuff. I just had to get it out since it's directly affecting us now.
I'm just hoping Mr. Obama has something good up his sleeves…
************
Bonus tip: Find a good "balance transfer" offer to help pay off debt faster!
If you've been making payment after payment (on time) and still haven't been able to get your debt under control, snatching up a good balance transfer credit card offer may be the ticket to try. That's where in order to gain your business - credit card companies will let you transfer your existing debt to a new card and let you pay ZERO PERCENT interest on it. Saving you tons every month!
What's the catch? Usually balance transfer cards charge a fee (around 3% of your debt balance) to let you transfer your balance to their 0% interest offer. But we've found a great credit card that will let you do a balance transfer absolutely free. Click here to learn more and see if you qualify!
PS: If you don't trust yourself with another credit card, ignore this! This strategy is to help you get out of debt quicker, not risk adding more to it.