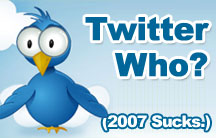 I flipped through an Inc. Magazine from Feb, 2007 the other day and BOY were things different! The cover headline read "How Philip Rosedale Created Second Life. The Coolest New Marketplace in the World" Second what? Are they still around anymore?
Oh man, this thing was filled w/ memories of the past. There was even talk about how awesome it would be to grow as popular as MySpace ;) Hah! That was nice, but now we've got Facebook and Twitter ruling the social media landscape. And don'f forget about the iPhone – it hadn't even hit stores yet (how did we ever manage?).
Then, of course, we've got the Economy. You don't have to be reminded that the money was flowing all over the place and deals were happening left and right. In fact, I specifically recall thinking that I have to hurry up and buy a place so I can get in on it before it was too late! Well, I def. got that last part correct.

That brings us to our finances. 2 years ago I was bopping around in la-la land w/out a care in the world! Great for the mindset, but not so great for the wallet. I wasn't getting into any debt or anything, but I surely wasn't saving all that much either. Needless to say, I'm glad I've wised up and started tracking where it all goes now ;) This way, when we look back 2 years from now again, I'll be bloogeeing* & skonjering** while my money is working FOR me instead of against me. Here's to a happy 2011!
————
*Bloogeeing; verb: To blog via thinking. Brain waves alone activate keystrokes on the computer.
**Skonjering; verb: To Tweet/IM/Text/Blog and pen old school letters at the exact same time.
************
Bonus tip: Find a good "balance transfer" offer to help pay off debt faster!
If you've been making payment after payment (on time) and still haven't been able to get your debt under control, snatching up a good balance transfer credit card offer may be the ticket to try. That's where in order to gain your business - credit card companies will let you transfer your existing debt to a new card and let you pay ZERO PERCENT interest on it. Saving you tons every month!
What's the catch? Usually balance transfer cards charge a fee (around 3% of your debt balance) to let you transfer your balance to their 0% interest offer. But we've found a great credit card that will let you do a balance transfer absolutely free. Click here to learn more and see if you qualify!
PS: If you don't trust yourself with another credit card, ignore this! This strategy is to help you get out of debt quicker, not risk adding more to it.