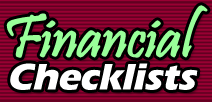 Just like budgets, financial checklists also come in different shapes and sizes.
Today I present to you a real-life one by fellow blogger Kaitlyn from Upturned Barbie. She blogs about life in general, but it's pretty obvious she has a keen eye on her finances.
Check out her current game plan:
Open a c.d. (waiting for a decent initial deposit)
Decide on, and begin, contributing to an IRA
Pay off the less than $1k of debt I have
Apply for, & get, a credit card & make regular pymts
Buy a house (foreclosed) in 1-2 years w/ a 30% down pymt & six months living expenses
Now that's a woman who knows what she wants! This self-proclaimed spreadsheet nerd is on track and ready to make things happen. She's already established a budget and believes "control of money is really one of the best things ever!" Sexy! How old are you again? Sheesh….@ 20 she's already 10 steps ahead of her peers.
It doesn't come w/out it's drawbacks (she's currently working 50 hours a week), but saving like a squirrel getting ready for winter sure does have its perks! How about you rock stars? Care to share? (You can see my top 3 over there in my sidebars, along w/ my progress)
************
Bonus tip: Find a good "balance transfer" offer to help pay off debt faster!
If you've been making payment after payment (on time) and still haven't been able to get your debt under control, snatching up a good balance transfer credit card offer may be the ticket to try. That's where in order to gain your business - credit card companies will let you transfer your existing debt to a new card and let you pay ZERO PERCENT interest on it. Saving you tons every month!
What's the catch? Usually balance transfer cards charge a fee (around 3% of your debt balance) to let you transfer your balance to their 0% interest offer. But we've found a great credit card that will let you do a balance transfer absolutely free. Click here to learn more and see if you qualify!
PS: If you don't trust yourself with another credit card, ignore this! This strategy is to help you get out of debt quicker, not risk adding more to it.