These are the best free budget templates around – mostly from fellow personal finance bloggers! How awesome is that? ;) I have to put mine at the top, of course, but ANY of these have the potential of working well nicely.
Remember, none of these budgets are perfect, but you can tweak & edit and use the one that's the most perfect for YOU. I change mine up every once in a while – getting rid of the parts that don't make sense any more, and adding in those which do – but the important part is FIRST choosing a workable template. So hopefully one of these works.
Best Free Budget Templates & Spreadsheets:
Here are the best free budget templates I've found so far! If you come across any others you think are worth adding, drop me a note. I'm always looking for more great ones ;)
Featured Recommendation – Personal Capital: While this tool focuses more on investments and net worth tracking than budgeting, this is a fantastic, FREE tool for anyone interested in saving money and building wealth. I recently signed up myself and it's awesome seeing everything in one spot – similar to mint.com or even my "financial snapshot" spreadsheet below, only it's automated ;)
Here's a quick video that shows their dashboard:

If you're serious about saving money and building wealth, you definitely owe it to yourself to give Personal Capital a try. It's a FREE signup anyways!
If you're not convinced, here's a review we did on the blog about Personal Capital from a millionaire friend of mine who's addicted: Why I Use Personal Capital Almost Every Single Day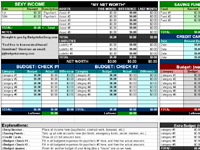 "Financial Snapshot & Budget" @ Budgets Are Sexy
Google Doc | Excel | Example (filled in) | More detailsA colorful and easy way to track your budget and overall Financial Snapshot! Room to budget per paycheck, detail your net worth (if you want), credit card balances, savings funds, total income, and an extra budget just in case :)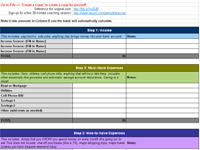 "4 Step Budget Template" @ Life After College
Google Doc | More detailsMost budgets are too cumbersome to be useful (in my humble opinion). Check-out this handy four-step budget: After filling in income, must-have expenses and nice-to-have expenses, you'll get a "monthly allowance" for you to spend on discretionary items as you'd like, with the peace of mind of knowing that your main expenses are taken care of.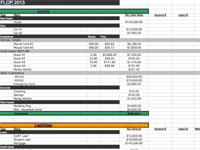 "FLOP: Financial Life on One Page" @ Christian PF
Excel | More details | His other great templates!I love this one because it's a single file for all your financial account details. It has three main purposes: a balance sheet, a place for all login info, and a financial roadmap. And Bob recommends keeping an updated file of this somewhere safe in case a family member needs at any point.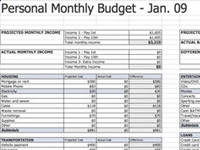 "Personal Monthly Budget" @ My Money Shrugged
Google Doc | Net Worth Google Doc | More detailsThis budget spread sheet works because it allows you to put in projected and actual income and cost and then shows you the difference. It is a great way to be able to compare each category or individual areas. This budget is also broken up into different categories based on major areas of your budget – housing, transportation, insurance, food, savings, etc.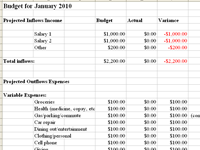 "2010 Budget Spreadsheet" @ Finance for a Freelance Life Excel | Blog Income | Freelance Income | More details

This budget spreadsheet is very basic and is meant to be adapted to any person's unique situation. It's easy to add or delete lines and to change the names of categories to better fit your life. For convenience in tracking specific purchases throughout the month, it has a spending log as the first page. This way, you can not only see how much you spent in each category at the end of the month, you can track how purchases added up.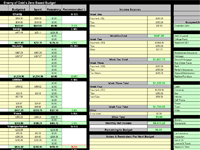 "E.O.D. Deluxe Budget 2.0" @ Enemy of Debt
Excel | More detailsEOD Deluxe Budget 2.0 is a comprehensive budget spreadsheet including a zero-based budget, an allocated spending worksheet, a checking account ledger, a savings allocation worksheet, as well as a lump sum payment schedule.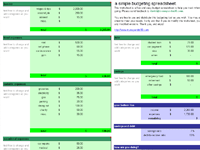 "Free Budget Spreadsheet" @ Money Under 30
Excel | Really Simple Budget | More detailsUsing the spreadsheet is easy. Enter the monthly amounts in the appropriate categories, estimating any value that fluctuates from month-to-month. Once you've entered the values, the spreadsheet will tell you how much you will have left at the end of the month to save or put towards debt. It will also tell you how close you are to an ideal income allocation (such allocation models are frequently used by banks and other lenders for determining your financial balance).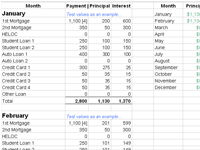 "How Much Debt Costs You" @ Debt Free Adventure
Google Doc | More detailsComplete with CHART. Figure out how much your debt costs you each month. Specifically, how much of your loan payments are allocated toward interest (paying for the debt) and how much toward principal (paying the debt down.) *Included are 3 sheets: Data, Chart, and Print*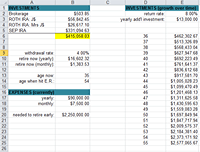 "Early Retirement Spreadsheet" @ Budgets Are Sexy
Excel | Version 2 | More details*NEW* I put this together to help me calculate how far away early retirement / financial independence is. It's not budget-related, but if your dream is to retire and do what you want before your 60s, I highly advise running your numbers and seeing if they make you happy ;) If not, time to start tweaking!
Other Great Templates & Spreadsheets:
Sometimes less options are better, but I didn't want to leave you hangin' if none of those above options did the trick for ya. Keep in mind that all these spreadsheets & templates are customizable, but see if you like any of these better: (I'm listing them out or else this page would go on forever ;))
Aggregate Template Sites:
And if you STILL can't find anything good…or you're just addicted:
Best Online Budgeting Sites:
And now, we've got the places online where you can budget & track all your financials instead of manually doing them yourselves. Well, you'll still have to manually keep up with this stuff online, but most of these places make it super easy for you – my favorites being Mint & Personal Capital (although I personally still use spreadsheets). The best online budgeting sites around:
GOOD LUCK everyone!! And if all else fails, there's nothing wrong with taking out a pen and paper and budgeting that money old school ;) Whatever gets the job done!

Featured savings tip
You already know that banks pay $$$ for the privilege of holding your money…it's called interest. But maybe you didn't know this: that so-called interest can be as little as .01%. If your cash savings aren't sitting in a high interest savings account that earns you at least 1%, you're basically saying "no" to free $$$!
Now, obviously the 1% interest you get with a high interest savings account like the one at Discover bank won't make you rich, but that extra 1% compounded over 30 years can grow into a *big* pile of cash. And if you wanna hit lofty $$$ goals, you should be looking for every edge possible.
Here's another way to look at it: if you leave $50,000 in a regular savings account, that's almost $500 you're just throwing away, each and every year you don't setup a high yield savings account! Will you do 5-10 minutes of work right now to earn an extra $500/year for years to come?
If you said "heck yes", then you can setup your high interest savings account here to start earning 1% on your cash savings.