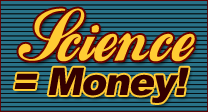 This is a guest post from Hank.
I recently earned $40 the easy way. I was just sitting in my doctor's office minding my own business when a nurse from the office next door stopped by to ask for volunteers. It seems that they were doing a medical study on the adverse effects of vaccines. I was given the money for about thirty minutes of my time, a brief medical questionnaire, and five small vials of blood. Not bad for a half hours worth of "work".
This wasn't the first time that I had been exposed to earning money for the benefit of science. I grew up in a medium size southern town that had a fairly large teaching hospital. Not only were there lots of medical students running around the hospital's hallways, but there were also a lot of medical experiments being conducted too.
I remember hearing about one experiment that the medical college was conducting while I was a senior in high school. For $5,000, the research doctors at the school would cut off one of your big toes, sew it back on, and then measure how the loss of the toe affected your balance. All my friends and I thought that it would be so cool to have all of that money. It was a lot for a kid in high school, but none of us ever were ever gutsy enough to try for it.
Earning Money From Science:
So, of course, this recent medical study got me thinking. Can someone earn enough money from science to pay your rent? I think you can. Here are a few examples of how you can make money by giving back to help science.
While these medical procedures listed above are not all inclusive, they can give you an idea of the possibilities that are out there. No one medical experiment, testing, or donating can solve all of your financial needs, but you can earn a decent supplemental income from some of these programs. Maybe you do not want to deliver pizzas in order to help you get out of debt faster. Maybe donating plasma is a better answer for you personally.
——–
Oh man, this guy cracks me up :) If you like what you saw, check out Hank's blog Own The Dollar where he writes about personal finance and investing. Or even better, sign up to his feed.

************
Bonus tip: Find a good "balance transfer" offer to help pay off debt faster!
If you've been making payment after payment (on time) and still haven't been able to get your debt under control, snatching up a good balance transfer credit card offer may be the ticket to try. That's where in order to gain your business - credit card companies will let you transfer your existing debt to a new card and let you pay ZERO PERCENT interest on it. Saving you tons every month!
What's the catch? Usually balance transfer cards charge a fee (around 3% of your debt balance) to let you transfer your balance to their 0% interest offer. But we've found a great credit card that will let you do a balance transfer absolutely free. Click here to learn more and see if you qualify!
PS: If you don't trust yourself with another credit card, ignore this! This strategy is to help you get out of debt quicker, not risk adding more to it.