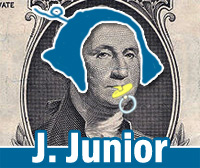 The talk of baby making has entered the BudgetsAreSexy household, and I'm starting to get a little nervous. Not so much about having one or making one (that's the fun part!), but about the costs they suck up (the not-so-fun part). How much do babies go for these days?
And that's not a rhetorical question either, sorry – I really haven't a clue :) If I had to guess, purely out of thin air, I'd say $10,000. And I'm not entirely sure if that means hospital bills, yearly costs, "per baby" or what. I'm as stupid as they comes to baby finances, so I'm hoping some of you will enlighten me. All I know is that they're expensive.
I plopped "how much do babies cost?" into the google, and the results were all over the place as you might expect. Some forums say they cost $800 a month once you get 'em going, and others say you're fine with $400 a month. There's probably too many variables to get an accurate figure for my exact personal situation (like daycare vs. home watched, insurance coverage vs. not covered, baby 1 vs. baby 2, etc, etc) but anything you can share would be very helpful.
I did try out a nifty Baby Cost Calculator though! You go down this huge list of selecting what you will and won't need, and at the end it pops out an average cost for you. According to OUR results, it says it'll cost us $4,119.00 the first year – or roughly $343.25/mo. It doesn't account for the hospital bills OR what you'd get for baby showers and presents and all that stuff, but it's a start.
Either way, I'm pretty excited to start a new adventure in our lives. We're not sure when this will all come about, but God willing we'll be able to produce healthy & happy little J. Juniors all over the place :) And you better believe I'll be blogging all about it.
************
Bonus tip: Find a good "balance transfer" offer to help pay off debt faster!
If you've been making payment after payment (on time) and still haven't been able to get your debt under control, snatching up a good balance transfer credit card offer may be the ticket to try. That's where in order to gain your business - credit card companies will let you transfer your existing debt to a new card and let you pay ZERO PERCENT interest on it. Saving you tons every month!
What's the catch? Usually balance transfer cards charge a fee (around 3% of your debt balance) to let you transfer your balance to their 0% interest offer. But we've found a great credit card that will let you do a balance transfer absolutely free. Click here to learn more and see if you qualify!
PS: If you don't trust yourself with another credit card, ignore this! This strategy is to help you get out of debt quicker, not risk adding more to it.