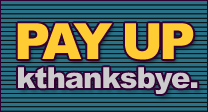 Oh yes. And then, when you get there, you should ALSO have to pay for all your beers and liquors and wines. Yup, if you don't spend at *least* $50 at your company party, you are a total embarrassment.
I mean, why should THEY have to pay for you? Did you come in at least 5 days a week? Work 'till 5 every day – maybe even to 7 or 8 or 9 at times? Did you put up with all those cranky customers? And/or co-workers who you *still* can't believe got their jobs? Who are actually your superiors? I didn't think so.
You see, as the holiday memo clearly states, the budgets are tight this year. You wouldn't believe the trouble it was to even BOOK the conference room we're squishing into. Sure it's in our own offices, but how often do we really get to spend quality time together? If management could, I'm sure they would have totally paid for it. After all, it IS in our honor.
I don't know what you're complaining about anyway. Look, none of your twitter friends are getting free rides:
@pmmaldonado: Um, yeah. As a former NYC employee, I can tell you that we paid for all of our holiday parties ($50/food/open bar was norm)
@yousuckatkijiji: Same deal at my company, 'til the "staff association" helped fund it. $25 per, plus cash bar. Times have changed…
@JoeTaxpayerBlog: Same here. $30/head plus cash bar.
@3princessesmomm: Our work party this time is a lunch in our break room and the company is supplying cold cuts for our potluck sub sandwiches
@nicoledixon: Wow, that's wrong – isn't the point of a holiday party to reward employees for their hard work throughout the year…GEESH!

(Editor's note – @nicoledixon doesn't know what she's talking about)
So be thankful, fellow co-workers. Not everything's "about you." If we don't support each other, you can say goodbye to the Christmas bonuses too. Wait…what's that? Oh, I see…Christmas bonuses have also been cut. Okay, well you know what that's not really the point. The point is, we're a team. And as a team, we have to make sacrifices together. Now go get dressed. If I don't see you in the copy room dancing, you won't have a job next year either.
———–
This post was inspired by my father, who, if you couldn't have guessed, had to recently pay for his holiday party. $30 for the ticket, $40 for a gift, and $XX for the beers he drank. The sarcasm was an added bonus, courtesy of Stanley Bing whose FORTUNE columns inspire the dickens outta me.