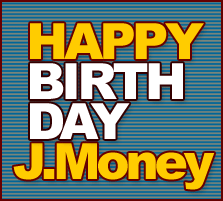 And just like that, J. loses an entire decade. But my damn if it wasn't a good one! Graduations, marriages, travels, blogs, (beers) – I suppose we can close it out ;) Although the "30's" sure don't sound as nice, eh?
Oh well, I won't sit here and proclaim my elderlyness right now. I'm sure half of you can beat me in that department any day! (ooooooohhh) I got mad love for all y'all, though. Your comments, emails, tweets, visits to this blog – it's like my birthday every day ;) And I thank you immensely for it.
Now if you'll excuse me, I have to go find my hearing aides… I heard we're going to the cinemas tonight! Right after Golden Corral. And Walmart.
PS: Wish Studenomics a happy one too….that lucky youngin'.
************
Bonus tip: Find a good "balance transfer" offer to help pay off debt faster!
If you've been making payment after payment (on time) and still haven't been able to get your debt under control, snatching up a good balance transfer credit card offer may be the ticket to try. That's where in order to gain your business - credit card companies will let you transfer your existing debt to a new card and let you pay ZERO PERCENT interest on it. Saving you tons every month!
What's the catch? Usually balance transfer cards charge a fee (around 3% of your debt balance) to let you transfer your balance to their 0% interest offer. But we've found a great credit card that will let you do a balance transfer absolutely free. Click here to learn more and see if you qualify!
PS: If you don't trust yourself with another credit card, ignore this! This strategy is to help you get out of debt quicker, not risk adding more to it.