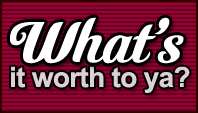 I've been meaning to play this little game for a while, but my lack of memory and A.D.D-ness has stipulated differently.
These exercises are awesome because they get you to stop and *evaluate* your true spending habits – something we tend to glaze over every now and then (and which I blame on excitement and bargains!). Regardless of the culprits, I'd like you to play along here and be as open and honest as possible. There are no right or wrong and answers of course, but if you catch yourself typing out numbers that shock you, it might be best to rethink your habits ;)
Okay, I'll go first….here are my answers along with Krystal's and Fabulously Broke's (the originators of the game, of which I edited to include guy versions so that I may participate…I haven't worn a dress in quite some time, you know.) This is how much I would honestly, and at the very MOST, spend on:
Purse (or Wallet):
Winter jacket:
A pair of (knee-high) boots:
Formal dress (or suit):
Pants (inc. jeans):
Computer:
Tennis Shoes:

$20
$100
$40
$100
$40
$1,500
$40

$200/100
$350
$250
$300
$150
$3,000
$250

$200
$400
$300
$200/$100
$50
$1,000
$50
As you can see, I don't like spending that much money on things. But, I also NEVER ever EVER pay full price either. If it's not on sale by at least 20% (and usually 50%), I won't think twice about buying it. At least when it comes to clothes/electronics/etc. So that means I'm still getting valuable products for my money, not *cheap* ones. Sometimes you can't get away with it for groceries or lunches and other things that rarely fluctuate, but for most others you can. You just have to be patient and have some self-control ;)
Your turn! How much would you spend on some of these guys?
************
Bonus tip: Find a good "balance transfer" offer to help pay off debt faster!
If you've been making payment after payment (on time) and still haven't been able to get your debt under control, snatching up a good balance transfer credit card offer may be the ticket to try. That's where in order to gain your business - credit card companies will let you transfer your existing debt to a new card and let you pay ZERO PERCENT interest on it. Saving you tons every month!
What's the catch? Usually balance transfer cards charge a fee (around 3% of your debt balance) to let you transfer your balance to their 0% interest offer. But we've found a great credit card that will let you do a balance transfer absolutely free. Click here to learn more and see if you qualify!
PS: If you don't trust yourself with another credit card, ignore this! This strategy is to help you get out of debt quicker, not risk adding more to it.