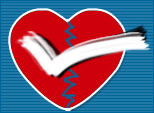 I wrote a check for the first time in 6 months and realized we're no longer as close as we used to be. "What happened to us?!" I asked myself. "Remember the days of filling up gas for Ma and having the honor to use a blank check?" It feels strange never officially breaking up.
These days, we're more like distant friends than lovers. We see each other every now and then – exchange some niceties – and then scurry away in this fast paced world of ours. Who has time to write out checks these days? Or to keep track of them so quaintly as we used to? The digital age sure has changed our behavior.
Back then, we used checks for everything – rent, groceries, clothes, utilities – I even remember using one for a couple of chocolate bars ;) Credit cards were around, but from what I recall were very hush hush. The only people using plastic were the scoundrels racking up debt and living the high life (literally and figuratively!). Of course, I was a mere child in those days so my memories are a little skewed, but the point is that plastic is the new check. Both debit and credit.
And you know what? I'm totally happy with! It's faster, easier, and fits in my pocket much much smoother. It's true there are still some old school'ers holding up the register lines at times, but at least I can now appreciate the nostalgia of it. They continue writing checks because it works for them. More power to ya Grandma! I just wish more places accepted PayPal. I'm starting to forget how to properly fill these things out…
************
Bonus tip: Find a good "balance transfer" offer to help pay off debt faster!
If you've been making payment after payment (on time) and still haven't been able to get your debt under control, snatching up a good balance transfer credit card offer may be the ticket to try. That's where in order to gain your business - credit card companies will let you transfer your existing debt to a new card and let you pay ZERO PERCENT interest on it. Saving you tons every month!
What's the catch? Usually balance transfer cards charge a fee (around 3% of your debt balance) to let you transfer your balance to their 0% interest offer. But we've found a great credit card that will let you do a balance transfer absolutely free. Click here to learn more and see if you qualify!
PS: If you don't trust yourself with another credit card, ignore this! This strategy is to help you get out of debt quicker, not risk adding more to it.