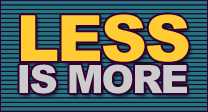 I'm reading this killer book by Leo Babauta called The Power of Less, and in it he suggests to spend 15 mins. a day on a new habit to work on. It's brilliant! Just enough to get you to take action, but not enough to wear you out. I actually look forward to this "work on me" time!
I've been using it to declutter our house more (and subsequently my brain), but you can surely apply it to anything in life – even finance. It's been about 12 days now and I'm still going strong, baby! Incredible. And perfect for us A.D.D. folk ;)
What I love the most about this concept is that it gets you to STOP all the craziness of your day – whether it's in the morning, day, night, whatever – and helps you to FOCUS on a simple task. Whatever you choose it to be. It's fascinating because you'd think out of 24 hours each day that 15 minutes wouldn't mean jack, but sometimes we just go and go and go w/out ever stopping and consciously prioritizing our time and wants in life. Like everything's one big "swoosh," ya know?
15 minutes doesn't seem a lot of time (power of less, eh?) but it can do wonders if spent wisely. Think about it – what would you do with an extra 15 mins every day? If a genie stopped time and said GO! Do whatever you want for 15 mins and then we'll start the day up again! Would you use it to better your lifestyle?
I encourage you to take a few minutes right now and really think about what goal you'd love to achieve this month. It could be the smallest, or simplest one out there – it doesn't matter. What's important is that it's a habit that makes you happy. A habit that gets you towards a healthier YOU.
Here are some ideas if it helps. Some are financial, and others not:
Declutter your house. In these past 12 days I've cleaned out my closet, drawers, cabinets under the sink, kitchen cupboards, and just last night my file cabinets! (although that took 3 hours – but the point is I would have never started had it not been for this new mindset)
Review a bill each night. I guarantee you'll find places you're overspending.
Run/walk around the block. Much easier to do knowing it's only 15 minutes, right?
Do art.Pick up a brush, sharpie, block of clay, whatev. Just go for it!
Eat healthier. Prepare 1 meal ahead of time each day so you know you're eating well.
Clip/download coupons. Buy the same stuff every week? Spend a few mins finding deals!
Review your cash flow. Jot down what went out, and what came in for the day.
Read before bed. If you're a slacker like me, this will really get you in the habit of reading more :) Plus, I find it's a great way to let your mind release that day's stresses before zonking out.
The list goes on and on my friends! I asked my newsletter subscribers this very same question and the results were outstanding (some of which are listed above). I may be in the "new & shiny" excitement phase right now, but I honestly couldn't be happier. And I want YOU to be happy too! So again I ask – how could 15 minutes improve YOUR life today?
************
Bonus tip: Find a good "balance transfer" offer to help pay off debt faster!
If you've been making payment after payment (on time) and still haven't been able to get your debt under control, snatching up a good balance transfer credit card offer may be the ticket to try. That's where in order to gain your business - credit card companies will let you transfer your existing debt to a new card and let you pay ZERO PERCENT interest on it. Saving you tons every month!
What's the catch? Usually balance transfer cards charge a fee (around 3% of your debt balance) to let you transfer your balance to their 0% interest offer. But we've found a great credit card that will let you do a balance transfer absolutely free. Click here to learn more and see if you qualify!
PS: If you don't trust yourself with another credit card, ignore this! This strategy is to help you get out of debt quicker, not risk adding more to it.