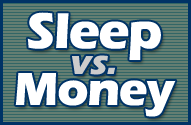 I've been getting jack for sleep this week, and I'm starting to realize how valuable it is. I can't think straight and all my days are mushing together like some sort of cracked-out dream (and not in a good way). Coffee doesn't even work on me any more :)
The one and only thing I need right now is SLEEP. It's just not for sale, and that makes me sad. Sure I could manage my time better and stop doing the things that are sucking away my attention, but sometimes it just doesn't work. At least not for me – I enjoy life! I'd stay up all night if I could.
Unfortunately our bodies need rest though, and we need to give it to them. But what if we could BUY sleep? Like, at some hourly rate? (There's an App for that!) Would you grab some? I would. Not a lot – say, 2 or 3 hours? – but it would be nice to have as an option. Of course, that would also depends on how MUCH these hours would go for.

I think I'd pay $20 or $30 for an extra hour, how about you? Maybe even $50 for 100% PURE REM-type sleep ;) The varieties could be endless in this Dream World. In fact, I bet the higher the amount, the more likely I'd be forced to get my act together! Haha… Dropping $50 every now and then is one thing, but every other day? Shoooooot….no way mang. I'd just have to buck up.
************
Bonus tip: Find a good "balance transfer" offer to help pay off debt faster!
If you've been making payment after payment (on time) and still haven't been able to get your debt under control, snatching up a good balance transfer credit card offer may be the ticket to try. That's where in order to gain your business - credit card companies will let you transfer your existing debt to a new card and let you pay ZERO PERCENT interest on it. Saving you tons every month!
What's the catch? Usually balance transfer cards charge a fee (around 3% of your debt balance) to let you transfer your balance to their 0% interest offer. But we've found a great credit card that will let you do a balance transfer absolutely free. Click here to learn more and see if you qualify!
PS: If you don't trust yourself with another credit card, ignore this! This strategy is to help you get out of debt quicker, not risk adding more to it.