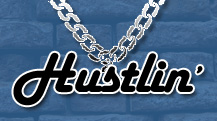 Hustlin' may sound trendy these days, but it can really be a slick move. Workin' a 9-5 only gets you so far sometimes ;) If you're trying to knock away that debt or hit that emergency fund goal, ya gotta pick up some side gigs (aka "hustles") and start taking home that money.
And it's a wide open market out there too! Some people like to referee, some design logos, and others even write eBooks – all in the name of creating a better lifestyle for themselves. And in case you haven't noticed, yours truly does the same here too. It's not one of the main reasons for running Budgets Are Sexy, but it feels pretty damn good bringing home a little extra paper – especially as my full-time junk could blow up at anytime (no joke, it's been kinda scary around here lately).
But money aside, it's also refreshing to know that we have OPTIONS. We may think we're confined to one main job every week, but we're far from it. There's nothing preventing us from pickin' up a side gig or turning our hobbies into a little extra income. It sounds lame, but most things really ARE possible if you put in the sweat and dedication. Plus, how awesome would it feel workin' for yourself over a crabby ass boss? (Unless, of course, you yourself are crabby. In which case you may be $hit out of luck ;) ) With most of these gigs, YOU are the one who schedules these opportunities and methods for knocking them out. And the more you work at 'em, the faster and more efficient you become.
So today, I challenge you to think up some of your own hustles and to spend a few minutes figuring out how you could put them into motion shall the need ever arise. It doesn't have to be something fancy or anything, just a way to optimize your skills and get paid a little in return. And the more you enjoy doing it, the better!
************
Bonus tip: Find a good "balance transfer" offer to help pay off debt faster!
If you've been making payment after payment (on time) and still haven't been able to get your debt under control, snatching up a good balance transfer credit card offer may be the ticket to try. That's where in order to gain your business - credit card companies will let you transfer your existing debt to a new card and let you pay ZERO PERCENT interest on it. Saving you tons every month!
What's the catch? Usually balance transfer cards charge a fee (around 3% of your debt balance) to let you transfer your balance to their 0% interest offer. But we've found a great credit card that will let you do a balance transfer absolutely free. Click here to learn more and see if you qualify!
PS: If you don't trust yourself with another credit card, ignore this! This strategy is to help you get out of debt quicker, not risk adding more to it.