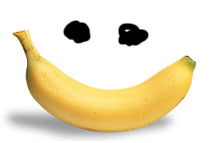 I don't know if McDonald's does this anymore, but they used to have these signs on their drive-thrus that said "Smiles Are Free." I always liked that. Especially as a troublemaker trying to force the employees to give them to us ;)
I was reminded of this because my sister just sent our family one of the sweetest, and most wonderful, emails I've ever seen! She wants all of us to mail her pictures of us smiling, and then she'll be converting them into mini-paintings to give to our dear grandmother :) She hasn't been doing so hot in her hospital/living quarters recently, and the idea is to mail her one smile a day until she's recouped! Doesn't that just want to make you cry?
As sappy as it sounds, it reminds me of just how little money can affect happiness at times. Having a lot gives us options, of course, and I'll continue pimping it out forever, but when you're 80 and alone and not feeling that well, all the benjamins in the world aren't gonna do it for ya. You can't buy friends or family members! (at least not the good kind ;)) And this is something I personally need to remember more. I get so caught up in my own stuff that I tend to forget about what's truly important in life – you human beings!
So today, I leave you with one big *smile*, right from the heart. It goes out to each and every one of you, and it's priceless. You can't buy THESE off the internet, baby!
// end sappiness
************
Bonus tip: Find a good "balance transfer" offer to help pay off debt faster!
If you've been making payment after payment (on time) and still haven't been able to get your debt under control, snatching up a good balance transfer credit card offer may be the ticket to try. That's where in order to gain your business - credit card companies will let you transfer your existing debt to a new card and let you pay ZERO PERCENT interest on it. Saving you tons every month!
What's the catch? Usually balance transfer cards charge a fee (around 3% of your debt balance) to let you transfer your balance to their 0% interest offer. But we've found a great credit card that will let you do a balance transfer absolutely free. Click here to learn more and see if you qualify!
PS: If you don't trust yourself with another credit card, ignore this! This strategy is to help you get out of debt quicker, not risk adding more to it.