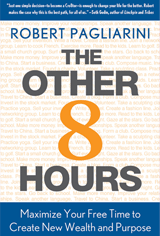 Here's another great book to give away! Congrats to the last 2 winners Teela and Sarah Oneill who won their own copy of Shoo, Jimmy Choo! (Make sure to email me your addresses, young ladies)
The Other 8 Hours: Maximize Your Free Time to Create New Wealth & Purpose
Here's what Amazon says about it: "…A large portion of the book is focused on becoming what the author calls a Cre8tor, someone who does not just settle for a paycheck but creates their own financial life. Even readers perfectly at peace with their career and paycheck will find the tips and a companion Web site, featuring downloadable templates for time management and a Goal Achievement Plan, useful catalysts for further professional and personal growth."
And here's what Daniel Pink says: "Most of us don't make great use of our 'non-work' hours. This book can help you change that. It's filled with great advice on how to devote those in-between hours to more enriching, energizing and rewarding pursuits."
Want it? Drop me a comment with what you WISH you could do in these extra 8 hours every day :)  I will announce the winner this weekend – U.S. Only, sorry.
————–
Read More: The Other 8 Hours: Maximize Your Free Time to Create New Wealth & Purpose
*GIVEAWAY OVER* The winner is…..Edward @ Entry Level Dilemma – Congrats!
************
Bonus tip: Find a good "balance transfer" offer to help pay off debt faster!
If you've been making payment after payment (on time) and still haven't been able to get your debt under control, snatching up a good balance transfer credit card offer may be the ticket to try. That's where in order to gain your business - credit card companies will let you transfer your existing debt to a new card and let you pay ZERO PERCENT interest on it. Saving you tons every month!
What's the catch? Usually balance transfer cards charge a fee (around 3% of your debt balance) to let you transfer your balance to their 0% interest offer. But we've found a great credit card that will let you do a balance transfer absolutely free. Click here to learn more and see if you qualify!
PS: If you don't trust yourself with another credit card, ignore this! This strategy is to help you get out of debt quicker, not risk adding more to it.