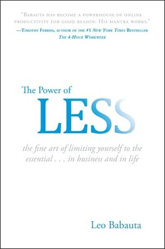 Today's giveway is special to me for a number of reasons. First, because I'm a HUGE fan of minimalism and simplifying our lives. Secondly, I've actually READ this book (shocker) and it's one of my all-time favorites!!! (not shocker) And finally, because my boy David Damron is giving them to me FREE to give to you all! TWO sexy copies for two Budgets Are Sexy readers :)
In fact, David's got a new minimalist eBook out too: Project M-31: Simplify Your Life in 31 Days, and I think you'd like it. Thanks David!
The Power of Less: The 6 Essential Productivity Principles That Will Change Your Life
Here is what Amazon has to say about it (although I've already told you – It's AWESOME!):
"With the arrival of the 21st century we have encountered a mental and material explosion in the Western world: we have near-unlimited information at our fingertips, we can have children who are healthy and safe, and we have wealth and possessions beyond what most of the world can dream of. Yet we are more stressed than we have ever been: the majority of us are profoundly unhappy. Though we are surrounded by what we want, our desire to keep and still get more creates a pressure that we cannot tolerate. But the flipside of our society is that we can choose what to accept, and what not to accept: what to keep, and what to lose, joyfully and consciously. With this handbook of simplicity, Leo Babauta shows us why less is powerful, the difference between what you want and what you need, and how to clear out what you don't."
Want it? Drop a comment with something YOU do to simplify your life every day (perhaps with your finances, career, habits, etc) and I'll announce the 2 winners this weekend. GOOD LUCK!
————–
More: The Power of Less: The 6 Essential Productivity Principles That Will Change Your Life

*Giveaway over: The 2 winners are Doug and Dorothea!
************
Bonus tip: Find a good "balance transfer" offer to help pay off debt faster!
If you've been making payment after payment (on time) and still haven't been able to get your debt under control, snatching up a good balance transfer credit card offer may be the ticket to try. That's where in order to gain your business - credit card companies will let you transfer your existing debt to a new card and let you pay ZERO PERCENT interest on it. Saving you tons every month!
What's the catch? Usually balance transfer cards charge a fee (around 3% of your debt balance) to let you transfer your balance to their 0% interest offer. But we've found a great credit card that will let you do a balance transfer absolutely free. Click here to learn more and see if you qualify!
PS: If you don't trust yourself with another credit card, ignore this! This strategy is to help you get out of debt quicker, not risk adding more to it.