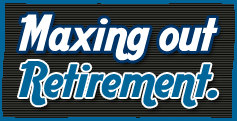 Any chance I get to talk about my love of 401(k)s! Although you could really apply this Q&A to any investing tool out there, I pretty much like 'em all ;)
Here's the question I was emailed in more detail, followed by my original answer copied & pasted below:
"I've been reading your blog for probably about a year now, and I've been wondering one thing for a little while now. What's your thinking behind making 90% contributions to your 401(k) in the beginning of each year until you reach the max contribution? I know that I would find it easier for budgeting purposes to just divide $16,500 by the number of pay periods in a year and make contributions that way. What brought you to the idea of doing it the way you're doing it?"
I actually max out the 401k the way I do because of 2 things –
1) I never know if it'll get cut one day. As you can imagine, it's one helluva over-the-top perk ;) Our company has seen better days, and if there was one thing they could get rid of to save money (esp with just my contributions alone! haha…) it would be this 100% matching. So, I consume as much and as fast as I can just in case.
2) I'm pretty hardcore when it comes to certain goals. While I'd never recommend maxing out ASAP to the majority of people out there, I personally get antsy and feel like if I *could* max it out sooner, then I should. Kinda like a crazy challenge to myself. Plus, I had maxed out last year around September so I'd gone 3 months without contributing a penny and I was ready to rock in roll when the new year hit.
So basically, it all comes down to personal preference :) If I knew everything would run smoothly the entire year, I would budget it out evenly throughout and work on maxing out my Roth and other savings at the same time. But with this economy and my crazy start-up job ya just never know. So I'm taking whatever I can, baby!
[UPDATE: All our 401(k) benefits ended up getting cut 4 months later…]
************
Bonus tip: Find a good "balance transfer" offer to help pay off debt faster!
If you've been making payment after payment (on time) and still haven't been able to get your debt under control, snatching up a good balance transfer credit card offer may be the ticket to try. That's where in order to gain your business - credit card companies will let you transfer your existing debt to a new card and let you pay ZERO PERCENT interest on it. Saving you tons every month!
What's the catch? Usually balance transfer cards charge a fee (around 3% of your debt balance) to let you transfer your balance to their 0% interest offer. But we've found a great credit card that will let you do a balance transfer absolutely free. Click here to learn more and see if you qualify!
PS: If you don't trust yourself with another credit card, ignore this! This strategy is to help you get out of debt quicker, not risk adding more to it.