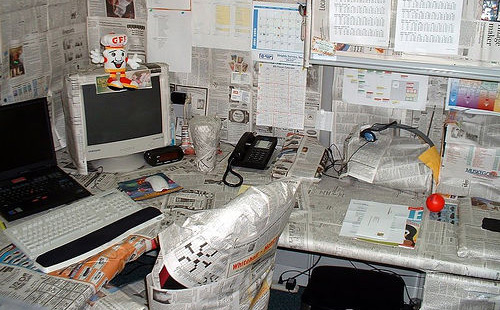 And so it begins. The reign of our new CEO. I may have qualified to keep my position here at our beloved start up, but the horizon is full of some awful scary changes. And salaries are just one piece of the saving-money-puzzle.  We've still got healthcare to consider, vacation/sick days, profit sharing, a whole mess of benefits that can hit the chopping block.
The truth of the matter is, though, I love my job. I may have grandiose visions of becoming a blogger extraordinaire one day, but I'm not gonna lie – the double income is sweet.  How else can I stay so chipper when my pockets are getting robbed right in front of me?!
In fact, you could cut my salary by 20% and I'll probably STILL be sitting right there blogging working away! ;)  If you follow me on Twitter you'll know a few of the reasons why too (although that was under Boss Man #1, so the fun department could certainly dry up at any time. And my job can go to crap and I can hate it and then bitch and whine until I do something about it. Haha…but for now, it's awesome).
And if I'm being totally honest here, which let's face it I am, I'd venture to say I'm way overpaid.  Or WAS overpaid, now (*tear*). How many customer service managers do you know bringing home $75k? With a mohawk? ;) Granted I do helluva lot MORE than just CS stuff (I seriously do like 5 different jobs there), but the reality of it is that I'd be hard pressed to find an equally suitable job in this type of industry.  Or even in this economy, really.
So the question to ask myself is if this 10% cut changes anything? And the answer to that is no.  But what it DOES do is open my eyes more and helps me to understand how LUCKY I am to begin with! There's not many people who can say they enjoy what they do when they wake up AND get paid handsomely for it.  So just like when we lost our bonuses and some of the other stuff of recent memory, I'll take it like a man and suck it up.  I may not like it, but it is what it is and I accept it. Now if you go touching my 401(k), it's ON brotha!!
(Nah, that's a lie.  I'd be stupid to think a company cutting costs would keep a 100% match.  But until that day comes, I'm gonna keep on keepin' on and pray for that miracle!)
Would a pay cut change anything for you?
————
(photo & killer prank by Kyle and Kelly Adams)