Hi guys!  We got a pretty fun giveaway to do today :) I'm not sure if you've heard of these books before, but I've read through two of them so far (the credit card one and one on the credit crisis) and absolutely loved them!
They're super fast to read (like 1-2 hours), lots of stick pictures and examples, and everything's in plain NORMAL terms like all financial things should be. I'm a big fan, esp if you're looking to get the foundation down. (If you're an expert or don't like books with pictures, these won't be for you). Here's more from their website: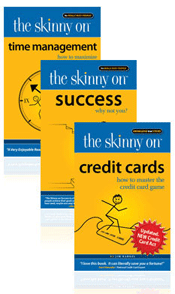 The Skinny on Real World Survival Kit
Compiled with young adults in mind, this $40 collection of three books is filled with guidance, tips and, of course, motivation to help you achieve your potential:
#1) The Skinny on Credit Cards helps you manage what can be one of the most beneficial financial tools. You'll close the book knowing what the fine print actually means and how to avoid (or get out of) credit card debt.
#2) The Skinny on Success directs you to recognize and reflect on your true potential. It is this actionable thought that can maximize your likelihood of success. Too often people underestimate their capabilities, and this book hopes to inspire you to reach a bit higher.
#3) The Skinny on Time Management teaches you the 50 principles you need in order to manage your precious time most effectively. Period.
Want 'em? Tell us who you'd give these to (maybe yourself?) and which one you'd probably like the best.  We've got TWO kits to give away so be sure to enter! I'll announce the winners this Sunday night (Aug. 22nd) by using our friend Mr. Random.org ;)  Good luck everyone!
(And if you don't win, you can always pick up either of these at Amazon!)
——————-
*GIVEAWAY OVER* The two lucky winners are….Heather and Nate! Congrats guys!  Look for an email from me soon :) For everyone else, look for another giveaway next week!
************
Bonus tip: Find a good "balance transfer" offer to help pay off debt faster!
If you've been making payment after payment (on time) and still haven't been able to get your debt under control, snatching up a good balance transfer credit card offer may be the ticket to try. That's where in order to gain your business - credit card companies will let you transfer your existing debt to a new card and let you pay ZERO PERCENT interest on it. Saving you tons every month!
What's the catch? Usually balance transfer cards charge a fee (around 3% of your debt balance) to let you transfer your balance to their 0% interest offer. But we've found a great credit card that will let you do a balance transfer absolutely free. Click here to learn more and see if you qualify!
PS: If you don't trust yourself with another credit card, ignore this! This strategy is to help you get out of debt quicker, not risk adding more to it.