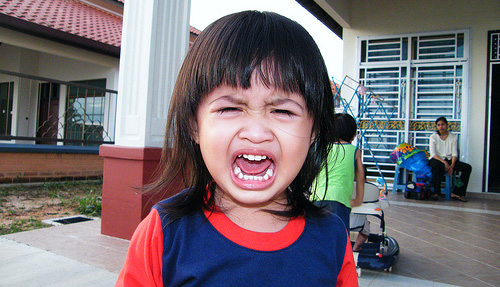 I probably shouldn't be blogging about this, but F it. It's my blog and I can cry if I want to. All our benefits are going away!!!
It seems our 4 year run of fun has finally come to a close and we'll be acting like a real business now… I can't say it's all that surprising, but I also don't have to like it :(
The GOOD thing is that I've been maxing these benefits for quite some time, so at least I've taken full advantage while I could. That, and I still have a job! (Although it's debatable whether that's actually a good thing or not since I'm trying to go solo… but for now I think it's def. smart.)
So what have we lost?
Our Entire 401k Match. Hard to justify 100% matching on 100% contributions when times aren't good.
The 401(k) itself! There's no way to sugarcoat this one, it plain sucks.  The match was to be expected at some point, but dropping it altogether?  Not cool.  Someone's gonna have to find new ways to invest come January… (I'm already maxed for this year).  I just feel bad for those who ONLY invest via 401(k) here because I don't think they were investing anywhere else :(  Some people just won't do it if it's not easy.
10% of our salary. It was cut 3 months ago, but it's still worth mentioning again.  And a little too eery considering I posed the "would you take a 10% paycut" question just the year before!
100% paid health insurance. We now have to pay 40% of it.  Not the worst thing in the world (would suck even more if we didn't *have* insurance) but it's still an extra $300/mo. out of pocket that we didn't have before. And paying for something you've always gotten for free is just harsh.
The Starbucks Card. Remember our unlimited supply of Starbucks?  Gone gone gone. But this is the least of our worries, esp since we expected this years ago.  I will say that I'll miss the camaraderie we build around these breaks though.  Now we have an in-house coffee pot set up so we don't waste company time (Hah!).
No more 10am start time. 9a.m. would have been fine, but 8:30?  I want to die every morning.  I know this is "normal" for a lot of you, but my body just doesn't function well waking up in the 6ams.  Maybe I'll get used to it, but right now I want to punch myself in the face.
No more "take it as you need it" vacay. We've got a finite # of days we can take off every year, and that's that.  It's a good thing I took all those days off before it started to count!
There are a few other suck-ities that are also in the works now, but that's the majority of them.  Really makes me realize how good we had it, even though it hasn't quite registered all the way. I'm also NOT enjoying work as much as I used to so maybe it's all happening for a reason?  To force me to make a change?
I don't know.  It just blows. I'm sure I'll get some comments here on how appreciative I should be for just being employed, but we all have our issues we're dealing with.  And today it's about me and my stupid losses. So I'm venting and feeling good about it – I'll be back to my cheery self later…
——-
(Photo by emrank : Eid Mubarak)