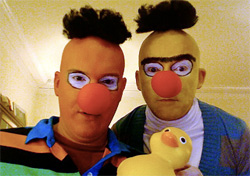 I literally JUST realized Halloween was THIS weekend! As in tonight!  As in "OMG I don't have a Halloween costume yet!"
It's a good thing I wasn't invited to any great parties or else I'd be a scramblin'. Although it sure woulda felt good opening up all them invites :(  Oh well…they were probably too nervous that I'd drink all their beer… And rightfully so ;)
But anyways – if you're looking for some quick and cheap costume ideas you're in the right spot! Here a few of my favorites from last year's costumes (which would last you 40 whole years by the time you got through them all!):
Christmas Tree: I once saw this guy dressed in all green with nothing else but Christmas lights wrapped around him. It looked kinda stupid at first, but when he plugged himself into the wall he had the whole party's attention! (and he got a lot of chicks that night)
DC Tourist: You know the kind: fanny pack, I heart DC tshirt, metro maps, high-waisted long shorts, camera :)
Smarty Pants: Tape smarties candies to your pants – SMARTY PANTS!
And here are some other AWESOME and super cheap ideas from my latest post over at Amex's Currency: 10 Frighteningly Cheap, Easy, Hilarious Halloween Costume Ideas
The tanning bed. Tape glow-sticks up and down your arms. Then go around the party, entrapping people in your embrace: Instant tanning bed.
The chick magnet. Tape a bunch of Barbie dolls to yourself. Or use pictures of hot girls!
The gold digger. Wear a shiny gold dress. Bring a shovel.
Funny right??? Like any of them? You can always do what I usually do and just throw on some guyliner and black nail polish and pretend you're a rock star ;)  Although it does get a tad annoying always having to explain what you're dressed as 24/7.  Can't people just read minds? Haha…
You guys already have your outfits picked? Anything nice & juicy you can tell us about?  Either way, I hope you all have a magical weekend!!!  Don't do anything I wouldn't do ;)
—————-
(Slick Bert & Earnie costumes by chattingjason)
************
Bonus tip: Find a good "balance transfer" offer to help pay off debt faster!
If you've been making payment after payment (on time) and still haven't been able to get your debt under control, snatching up a good balance transfer credit card offer may be the ticket to try. That's where in order to gain your business - credit card companies will let you transfer your existing debt to a new card and let you pay ZERO PERCENT interest on it. Saving you tons every month!
What's the catch? Usually balance transfer cards charge a fee (around 3% of your debt balance) to let you transfer your balance to their 0% interest offer. But we've found a great credit card that will let you do a balance transfer absolutely free. Click here to learn more and see if you qualify!
PS: If you don't trust yourself with another credit card, ignore this! This strategy is to help you get out of debt quicker, not risk adding more to it.