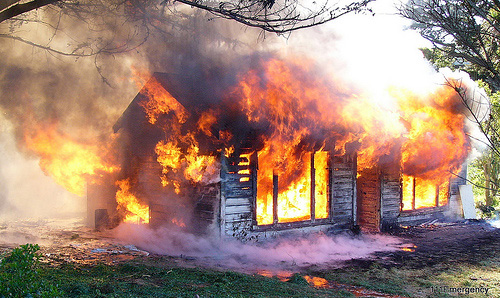 (WARNING: I am extremely pissed off right now)
Where the F*ck is common decency? What if this was your mother's home burning down?!  This story fires me up beyond belief (no pun intended)…  In a nut shell, a homeowner didn't pay the $75 yearly fee to have access to the fire service, so when he called 911 to get someone out to stop it from burning to the ground they said they couldn't help him. From the story:
"Gene Cranick of Obion County and his family lost all of their possessions in the fire, along with three dogs and a cat. "They could have been saved if they had put water on it, but they didn't do it," Cranick told MSNBC's Keith Olbermann."… Firefighters did eventually show up, but only to fight the fire on the neighboring property, whose owner had paid the fee."They put water out on the fence line out here. They never said nothing to me. Never acknowledged. They stood out here and watched it burn," Cranick said."
This sickens me. That no one would stand up and have the decency to cut the bull$hit and save the house?  And even worse, the FOUR ANIMALS that were killed because of them?  Come ON.  If I were PETA I'd be all on that.  Over a measly $75 that was or was not forgotten on purpose (yeah, obviously they should have paid it – but does that justify it?!! You can't collect it afterward and apply some fee or something for being an idiot?).
And what if there was a person in there? I'd like to think they'd have gotten off their asses to save a HUMAN LIFE, but in all honestly who knows…  Wouldn't want to break any rules!
I'm sorry for ranting like a lunatic here, but it's stuff like this just saddens me about this world. People stuck in their boxes and too afraid to think for themselves and do what's RIGHT – regardless of the structure set up around them.  I hope this story gets even more viral to wake others up and remind us to have some compassion. No one should lose their home and pets over $75.00, that's ridiculous.
——–
(Photo by 111 Emergency – not the house in question)
************
Bonus tip: Find a good "balance transfer" offer to help pay off debt faster!
If you've been making payment after payment (on time) and still haven't been able to get your debt under control, snatching up a good balance transfer credit card offer may be the ticket to try. That's where in order to gain your business - credit card companies will let you transfer your existing debt to a new card and let you pay ZERO PERCENT interest on it. Saving you tons every month!
What's the catch? Usually balance transfer cards charge a fee (around 3% of your debt balance) to let you transfer your balance to their 0% interest offer. But we've found a great credit card that will let you do a balance transfer absolutely free. Click here to learn more and see if you qualify!
PS: If you don't trust yourself with another credit card, ignore this! This strategy is to help you get out of debt quicker, not risk adding more to it.