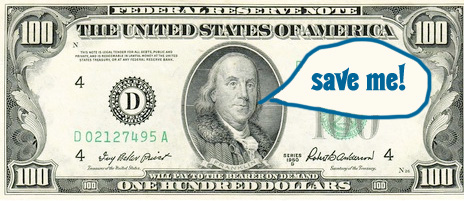 Hidey ho my financial friends! Today I'd like to talk about checking accounts. In particular, PADDING your accounts so you don't make a jack ass out of yourself – something I was pretty good at back in the day ;)
Example #1: Bringing my 2-week supply of groceries to the check out lane, only to find out I'm shy $5 bucks! That's the worst  – having 10 people behind you in line watch as your card bounces and you're forced to either load it all back in your cart, or run away with your hands over your head. I think I've done that at least 5-6 times that I can remember.   Which is yet another reason I love my credit card more ;)  (amazingly you never run out of money! haha…)
Example #2: Hitting up the ATM in the middle of your 10 year reunion and realizing you don't have the cash to pay for that cab ride home!  And then having to pretend something is wrong w/ the machine when all your old friends and ex's wonder why your hands are empty.  NOT FUN!  Especially since it'll be another 10 years until you can convince them you're neither an idiot nor a cheapskate ;)
And I can go on and on and on… when you're budgeting down to $0.00 every month you're just asking for trouble! Luckily though, there's an easy fix to this.  In fact there's two:
Link your checking account to your savings account (and if you don't have a savings account link it to your credit card – although fair warning that going that route may induce penalty fees and/or nausea).  This way before you even realize it you'll have the cash to finish whatever transaction you're currently on! And most banks offer this nowadays.  If they don't, you need to change banks.
ALWAYS keep at LEAST $100 in your checking account. I can't stress enough how important it is to have a cushion in there – and not just to avoid embarrassment either.  There have been sooooo many times where I've miscalculated the balance or forgotten that a check or two hasn't cashed.  And $100 is a nice amount that usually saves you from trouble, although not always (like with larger amounts). Even the best budgeters mess up when you don't allow for some leeway.
It's been 3 years since doing this and so far so good!   I think of it as a $100 savings cushion.  I could always touch it if I want, but it's nice knowing it's there to keep me safe :) It's def. worth a try if you're not doing it already – nothing bad can come of it!
************
Bonus tip: Find a good "balance transfer" offer to help pay off debt faster!
If you've been making payment after payment (on time) and still haven't been able to get your debt under control, snatching up a good balance transfer credit card offer may be the ticket to try. That's where in order to gain your business - credit card companies will let you transfer your existing debt to a new card and let you pay ZERO PERCENT interest on it. Saving you tons every month!
What's the catch? Usually balance transfer cards charge a fee (around 3% of your debt balance) to let you transfer your balance to their 0% interest offer. But we've found a great credit card that will let you do a balance transfer absolutely free. Click here to learn more and see if you qualify!
PS: If you don't trust yourself with another credit card, ignore this! This strategy is to help you get out of debt quicker, not risk adding more to it.