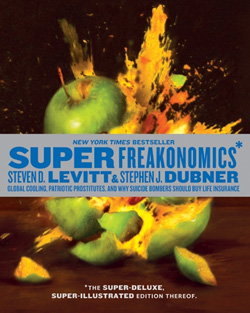 How awesome is this?? Freakonomics on steroids! With lots of purrty pictures and diagrams – perfect for those of us A.D.D. kids ;) And it's big & hard too! (that's what she said?)
Whether probing the intricacies of sex change operations, the effectiveness of child car seats, or what really motivates people to do good, the Illustrated edition of SuperFreakonomics – by Steven D. Levitt and Stephen J. Dubner – employs photographs, drawings, and graphs that will lead readers to see the world in a bold, fresh way.
If this sounds like something you'd want, tell us why in the comments below and you'll be automatically entered to win it!  I'll pick ONE winner tomorrow, and we'll both be "reading" our free copies together ;) GO!
UPDATE: Giveaway over… Big winner is….. Jeannine!! Congrats!
************
Bonus tip: Find a good "balance transfer" offer to help pay off debt faster!
If you've been making payment after payment (on time) and still haven't been able to get your debt under control, snatching up a good balance transfer credit card offer may be the ticket to try. That's where in order to gain your business - credit card companies will let you transfer your existing debt to a new card and let you pay ZERO PERCENT interest on it. Saving you tons every month!
What's the catch? Usually balance transfer cards charge a fee (around 3% of your debt balance) to let you transfer your balance to their 0% interest offer. But we've found a great credit card that will let you do a balance transfer absolutely free. Click here to learn more and see if you qualify!
PS: If you don't trust yourself with another credit card, ignore this! This strategy is to help you get out of debt quicker, not risk adding more to it.