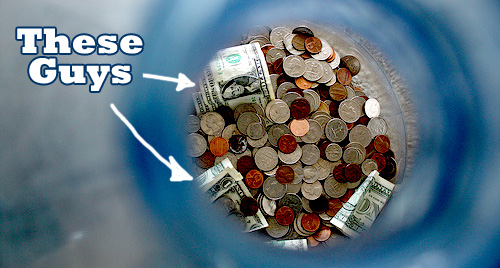 I've been doing this on and off over the years, but a recent commenter here reminded me how well this trick works!  And it barely takes any extra time in your schedule to make it happen. (it literally takes .03 seconds – I've timed it.)
Check it out (thanks Chris!):
For the last week I have been taking all my ones out of my wallet at the end of the day because I tend to spend less impulsively if I have to break a larger bill. I had already been saving my coins. At the end of this week I have saved almost $40 between the ones and coins.
That's pretty damn good!  I actually do the same thing with coins going on 3 years now (you can check out my "winnings" here and here since tracking this), but upping the ante with dollars makes you even more hardcore.  And that's a good thing :)  Well, if you like saving money that is – not if you're a frequent patron of the strip clubs, Haha…
As Chris mentioned, unloading your dollars at the end of the day does TWO things for you:
You literally save more money! And if you can take it one step further and DEPOSIT this money at the end of every month, you'll have some nice amounts stacking up over the year.
You possibly cut the urge to impulse spend a little bit. I hadn't thought about this effect when I was doing it myself (I have no problems breaking a larger bill for something I want right that instant! *cough* chocolate bars), but I bet this does change the way some people would shop.
Of course, the downside here is that it does get pretty annoying never having any singles on you.  You won't believe the amount of times they come in handy!  And I'm also a fan of  having plenty of cash on you at all times – in all different denominations.  But then again, if all you wanna do right now is save save save, this just might be the trick for you!  And it's a helluva lot easier than trying to save $1 a day which burned me out much faster when I gave that one a shot.  With this one, either you have a dollar to stash aside every night, or you dont'!  No pressure… just the way I like it :)
Any one else trying this right now? Anyone have even better ideas?
———-
(Photo by KrissZPhotography)
************
Bonus tip: Find a good "balance transfer" offer to help pay off debt faster!
If you've been making payment after payment (on time) and still haven't been able to get your debt under control, snatching up a good balance transfer credit card offer may be the ticket to try. That's where in order to gain your business - credit card companies will let you transfer your existing debt to a new card and let you pay ZERO PERCENT interest on it. Saving you tons every month!
What's the catch? Usually balance transfer cards charge a fee (around 3% of your debt balance) to let you transfer your balance to their 0% interest offer. But we've found a great credit card that will let you do a balance transfer absolutely free. Click here to learn more and see if you qualify!
PS: If you don't trust yourself with another credit card, ignore this! This strategy is to help you get out of debt quicker, not risk adding more to it.