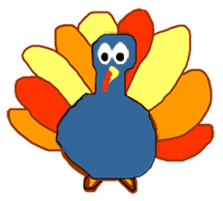 I had this dream last night that the world was run by gargantuan turkeys, and they were all out to eat us!!
Which means 2 things right about now:
1)  I have to stop eating Fruity Pebbles at all hours of the night for dinner.
and 2) It's THANKSGIVING!!!!! Rejoice!
We all have so much to be thankful for today, and I just want to say how much I've appreciated each and every one of you reading Budgets Are Sexy over the years :)  It's almost been 3 now, and I can't tell you enough how much that means to me!  THANK YOU all from the bottom of my heart, you make my life much more exciting. Now get out there and enjoy some time with your family! Just be sure to stay clear of those giant turkeys… they may taste good, but they're a crafty bunch…
************
Bonus tip: Find a good "balance transfer" offer to help pay off debt faster!
If you've been making payment after payment (on time) and still haven't been able to get your debt under control, snatching up a good balance transfer credit card offer may be the ticket to try. That's where in order to gain your business - credit card companies will let you transfer your existing debt to a new card and let you pay ZERO PERCENT interest on it. Saving you tons every month!
What's the catch? Usually balance transfer cards charge a fee (around 3% of your debt balance) to let you transfer your balance to their 0% interest offer. But we've found a great credit card that will let you do a balance transfer absolutely free. Click here to learn more and see if you qualify!
PS: If you don't trust yourself with another credit card, ignore this! This strategy is to help you get out of debt quicker, not risk adding more to it.