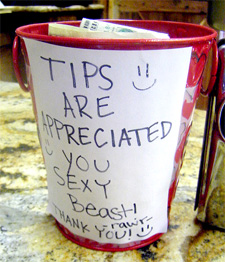 We talked a lot about holiday tipping the other week, but I think this one is MUCH more interesting because it affects almost each and every one of us.  Or at least the ones who enjoy splurging on take-out every now and then :) And I've heard pros and cons to both sides here (we're talking take-out AT the restaurant, btw, not delivery), so I'm kinda curious to see what you all think…
Here's the comment that prompted this post today (thx Linda!):
What about tipping for take-out? They seem like they want the full 20% and get angry if they don't get it. How do other people handle this?
Well, I'm not sure how others handle it but I'll tell you how we do!  We handle it by NOT tipping! Haha…   To me, it's just the same if I drove through McDonald's or Wendy's – the food costs X amount of dollars,  so you pay X amount of dollars, plain and simple. No one's paying special attention to me, so why would it warrant a tip? I know it's still polite and kind and warm and fuzzy to leave one anyways (and sometimes I do), but just seems all out of whack to me. Even if it is the  "norm" (although we'll see if it is or not when you all start leaving comments).
This is an instance where I honestly don't feel bad about it at all. Plus, who would get the tips anyways? The cashier?  The cook who just made it?  Can't be for the busboys or servers, right?  Maybe it's for everyone!  A big warm family of workers getting some extra dough just cuz they were clever enough to leave a tip jar in front of you :) Haha…
Oh man, I'm feeling feisty now… I swear I love the restaurant industry. And I'm a really good tipper too, I promise! ;)  I just gotta know what, exactly, I'm tipping for. Same reason I'm sure Linda up there is questioning it all too… or perhaps we all have it wrong?  Mayyyyyybe, just maybe, none of these places ARE expecting tips? And we all just assume they do, and therefore get to acting strange when it comes to paying for our food that we make THEM feel uncomfortable and weird! We're all over analyzing things! Haha…. oh man.  Too much coffee in me right now.  Ok, think it's time to go.  Your turn – How much do you tip for take-out?
———
UPDATE: Forgot to mention — the only reason I go to restaurants for take-out is so I can avoid the tip!  If the manager said I had to leave one, I'd never have gone to begin with.  (kinda like Bed, Bath, and Beyond 20% off coupons –  if we couldn't use them, we'd never go!) So in this case – should I just not take my business at all there if I'm not dining in? Would you (anyone in the biz) rather I give my money to another establishment? A competitor?
(Sexy tip jar by bradleygee)
************
Bonus tip: Find a good "balance transfer" offer to help pay off debt faster!
If you've been making payment after payment (on time) and still haven't been able to get your debt under control, snatching up a good balance transfer credit card offer may be the ticket to try. That's where in order to gain your business - credit card companies will let you transfer your existing debt to a new card and let you pay ZERO PERCENT interest on it. Saving you tons every month!
What's the catch? Usually balance transfer cards charge a fee (around 3% of your debt balance) to let you transfer your balance to their 0% interest offer. But we've found a great credit card that will let you do a balance transfer absolutely free. Click here to learn more and see if you qualify!
PS: If you don't trust yourself with another credit card, ignore this! This strategy is to help you get out of debt quicker, not risk adding more to it.