*Featured Side Hustle*: Ride sharing companies like Lyft and Uber have made it easier than ever for anyone to start a profitable side hustle. If you have a reasonable driving record, a smartphone, and a car that's less than 10 years old, you could be making serious side income (from $20-$40 an hour) within minutes just by driving around your city!
You could even earn a cash $$$ bonus of up to $2,000 if you sign up to drive for Lyft here! Check out Side Hustle #52 to learn more about driving for Lyft and Uber.
**********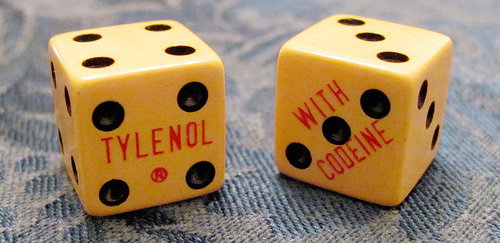 (Guest Post by Jeremy Orr – as part of our Side Hustle Series!)
For the last eight years I have been dealing craps as a side job at company events and holiday parties. It is a great "side hustle." The hours are perfect if you keep a 9 to 5 job, the pay is good, but most of all it is a lot of fun.
How I got started
Out of college, I worked for an event company. They put on corporate parties, renting out everything from sumo suits to cool funky furniture. I ran team building events for them, planning and managing trainings. This company also puts on casino events for company functions and parties. Everyone at the company was encouraged to work these events as casino dealers. They train you how, and the pay was good enough that everyone did. At first they trained me to deal blackjack. I took to that easily and they quickly moved me to roulette and taught me Texas Hold'em. These all paid well, but the highest paying gig was dealing craps. I had never played craps before but asked to be trained on it. Craps is a complicated game to play and there is a lot the dealer needs to know.
The pros of craps dealing
After I left the company, to pursue a career as a teacher, I continued to deal craps. My manager emails me when he has dates he wants me to work and I let him know if I am available or not. The flexibility is great. I show up at the designated hotel, convention center (or even yacht!), at the designated time, deal for four hours and walk away. Most of these events happen during the month of December, I can work every Friday and Saturday night up to Christmas and make an extra thousand dollars to line my stocking.
The cons of craps dealing
If it is not the winter time, I work on average a casino every two months. So it is not a great gig if you are looking to steadily supplement your income all year long. Come December you need to give yourself a tutorial to refresh your memory on all of the small details and brush away the cob webs. This is also not a great side hustle to count on. It is great money to pad the pockets, but the work is inconsistent. Last year, the economy was such that a lot of companies cancelled or scaled back their holiday parties. I ended up only working four casinos in the month of December. Thankfully, things rebounded and I am scheduled for eight events already this holiday season.
How you can get started
Many of the dealers I work with found their way to the event company on craigslist. They post an ad that says "casino dealers wanted, will train". If you have the disposition to be a people person, this is a great way to make some extra cash while meeting all sorts of nice folks. They are usually socially lubricated, nicely dressed, and in a great mood! You don't have to start as a craps dealer like me; you can deal blackjack or roulette and get steady work. It helps if you live in a big city or urban area, if you are in the San Francisco bay area, I might just know a guy.
—————
Jeremy is an elementary school teacher in the San Francisco bay area. He blogs at mrorrsclassroom.com about anything and everything that floats across his chalkboard. He can be found on twitter as @jeremyorr
(Photo by woodleywonderworks)
Do you have a side hustle to share? Let me know.
************
Bonus tip: Find a good "balance transfer" offer to help pay off debt faster!
If you've been making payment after payment (on time) and still haven't been able to get your debt under control, snatching up a good balance transfer credit card offer may be the ticket to try. That's where in order to gain your business - credit card companies will let you transfer your existing debt to a new card and let you pay ZERO PERCENT interest on it. Saving you tons every month!
What's the catch? Usually balance transfer cards charge a fee (around 3% of your debt balance) to let you transfer your balance to their 0% interest offer. But we've found a great credit card that will let you do a balance transfer absolutely free. Click here to learn more and see if you qualify!
PS: If you don't trust yourself with another credit card, ignore this! This strategy is to help you get out of debt quicker, not risk adding more to it.