Well folks, Love Drop is now live and ready to go for 1.1.11! My lack of sleep has got me all sorts of twisted around, but I'm pretty damn excited about our final product :)  And to think that's only half the battle right now! Haha… seriously, I'm still amazed at how much WORK this is all taking to make happen. Feels like Cassidy up in here… (I'ma Hustla, I'ma I'ma Hustla homie!)
Next on the list – logistics, budgeting (aww yeahh!!!) and lots and lots of spreading the word.  It's great knowing that the more we pour our hearts into this thing though, the more we're changing lives. One step at a time, baby.  Have a blessed rest of your weekend everybody!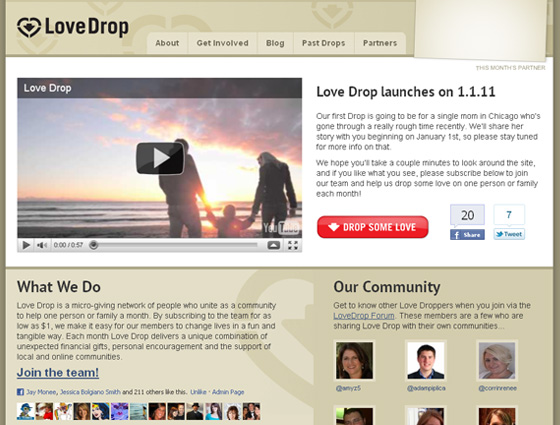 ************
Bonus tip: Find a good "balance transfer" offer to help pay off debt faster!
If you've been making payment after payment (on time) and still haven't been able to get your debt under control, snatching up a good balance transfer credit card offer may be the ticket to try. That's where in order to gain your business - credit card companies will let you transfer your existing debt to a new card and let you pay ZERO PERCENT interest on it. Saving you tons every month!
What's the catch? Usually balance transfer cards charge a fee (around 3% of your debt balance) to let you transfer your balance to their 0% interest offer. But we've found a great credit card that will let you do a balance transfer absolutely free. Click here to learn more and see if you qualify!
PS: If you don't trust yourself with another credit card, ignore this! This strategy is to help you get out of debt quicker, not risk adding more to it.