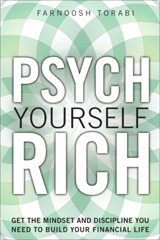 Oh man, got a GREAT book for you guys today. Remember our old fave tv show the Bank of Mom & Dad?  Well the finance guru behind it – Farnoosh Torabi – just came out with her new book:
Psych Yourself Rich: Get the Mindset and Discipline You Need to Build Your Financial Life
I haven't been able to read it yet, but I talk w/ Farnoosh every now and then on Twitter (Yeah technology!) and I freakin' love that girl.  Smart, talented, and financially sexy ;)
Here's what the writeup on Amazon says about it:
"TV's newest personal finance star shows how to develop the mindset, discipline, and spirit to grow wealth on your own terms—without fear or anxiety, Farnoosh Torabi combines behavioral psychology with real attitude! Build a healthier relationship with money…map a plan based on what you care about…transform dreams into reality."
And here are some of the bullets that I found inside the flap (I got my own copy too – woohoo!):
Stop agonizing — and start ACTING
Assert yourself, take control, and stop shorting yourself
Get more out of the money you already have
Live your passion: Identify what's important to you and go after it
What do you think?  Something you may want to read? If so, here's how you can win your very own free copy:  Leave a comment with either your favorite financial show, or your favorite financial guru.  Any person or show counts if it relates to money – just tell us why you like it/him/her!
We'll random.org the winner this Friday night @ midnight.  Good lucky everyone!
————————-
*****GIVEAWAY OVER****
The lucky winner is….. Sasha! Woooo! Congrats :) Gonna be a great read.
Thanks for participating everyone, see you at the next giveaway VERY soon!
************
Bonus tip: Find a good "balance transfer" offer to help pay off debt faster!
If you've been making payment after payment (on time) and still haven't been able to get your debt under control, snatching up a good balance transfer credit card offer may be the ticket to try. That's where in order to gain your business - credit card companies will let you transfer your existing debt to a new card and let you pay ZERO PERCENT interest on it. Saving you tons every month!
What's the catch? Usually balance transfer cards charge a fee (around 3% of your debt balance) to let you transfer your balance to their 0% interest offer. But we've found a great credit card that will let you do a balance transfer absolutely free. Click here to learn more and see if you qualify!
PS: If you don't trust yourself with another credit card, ignore this! This strategy is to help you get out of debt quicker, not risk adding more to it.