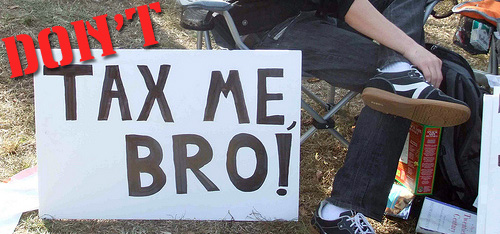 Yeeeeeeeessss! You can't see me, but I'm doing the biggest nerdiest white boy dance right now on top of my desk chair.  Jersey Shore style, baby ;) All because I apparently can't do math properly in my head. (Reason # 387 to stick with a trusty accountant)
That's right – I literally thought I was gonna lose $20,000 or $15,000, or any other amount large enough to make a grown man cry during tax season.  By no means did I get off Scott-free, but we certainly live to fight another day!  And with a much better understanding of what to expect going forward too.
The total damage: Option A
Right now, w/out any further action, our total tax bill comes to…. drum roll please… get ready to still be freaked out please… about $9,000! Zing!  That includes both federal and state, and everything else we have going on here (like biz stuff in other states).  It's not small potatoes by any means, but again – It's not $20,000!  Which was my default "worst case scenario" based on stupid numbers and just plain ol' fear.  Something I'm very glad existed to help ease the pain a bit ;)
As I mentioned before, I very well knew I was gonna get hit hard this year since my hustles were taking on a form of its own, and there had been no taxes being paid out at all on them.  Which was one of the reasons I kept hoarding all my cash like a crazy person (the other reason being the whole "work for myself one day" goal – now obviously being put to use ;)) So the good thing here is that I'm not gonna go in debt no matter which way you slice it.  And it also helps with Option B.
The total damage: Option B
My accountant had another surprise in store for me — If I were to invest some money into an SEP-IRA (Simplified Employee Pension Individual Retirement Account), which is used by the self-employed and amazingly enough, didn't conflict with my maxed out 401(k) AND Roth IRA last year, I could knock down the tax bill even further! $5,000 invested right this second, and counted for 2010, will reduce my payment down to about $7,000 instead of 9.
Hmmm…..um, YES!  Force myself to stash away another $5,000 toward retirement, and save $2,000 in the process?  It's a no brainer.  I literally went from relieved to EXCITED ;) Not only did I already set aside a ton of money for this tax crap, but then I get to keep and INVEST some in the process!  And learn all about a new IRA I wasn't aware of.  Win-Win-Win.
So that covers Tax Tsunami 2010.  But the learning doesn't stop there…
Moving forward…
Nope, I get another little surprise that I have now graduated to quarterly payments. Woopee!  I get to think about taxes every 3 months instead of year – my favorite! Haha… I kinda sorta saw that coming, but I kinda sorta ignored it thinking that maybe it won't come up ;)  But I guess the IRS gets mad when they don't get their money on time… imagine that?
Sooooo, going forward, I must now have a game plan and SET ASIDE X% of my income so that I remain buddy buddy with Uncle Sam.  And I already know that % too — a whopping 35%.  Yes, apparently when you work for yourself you have to pay quite a nice chunk of Social Security AND Medicare on top of your other %'s – something that seems crazy high since employers usually help cover half of it for you.  D'oh.  This comes out to 15.3% total (SS plus Medicare).  And it kinda stings. But on the other hand, dear accountant says all the benefits of going on your own far exceeds the cons. So we shall see…
All I know is that I'm one happy bastard right now. We "saved" $8,000, invested $5,000, and only had to give up $7,000 at the end of the day. I don't think I could have planned that one out if I tried ;) And better yet, I can now finally get rid of that nagging feeling in the back of my head!  The taxes are done, man. No more wondering "what ifs"…
————–
(Photo by soukup. Edited by J$)
Featured savings tip
You already know that banks pay $$$ for the privilege of holding your money…it's called interest. But maybe you didn't know this: that so-called interest can be as little as .01%. If your cash savings aren't sitting in a high interest savings account that earns you at least 1%, you're basically saying "no" to free $$$!
Now, obviously the 1% interest you get with a high interest savings account like the one at Discover bank won't make you rich, but that extra 1% compounded over 30 years can grow into a *big* pile of cash. And if you wanna hit lofty $$$ goals, you should be looking for every edge possible.
Here's another way to look at it: if you leave $50,000 in a regular savings account, that's almost $500 you're just throwing away, each and every year you don't setup a high yield savings account! Will you do 5-10 minutes of work right now to earn an extra $500/year for years to come?
If you said "heck yes", then you can setup your high interest savings account here to start earning 1% on your cash savings.