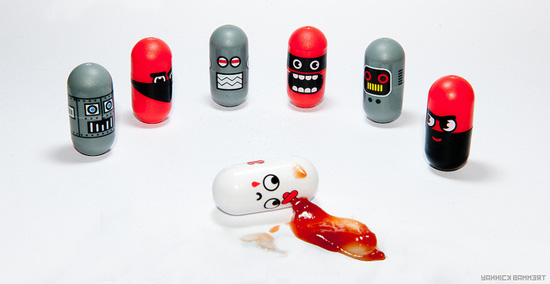 (The following is an article by personal finance blogger, Lazy Man and Money. Last year he shared his thoughts on how MonaVie is a scam, and today's he's back to dish on another Mulit-Level Marketing (MLM) product – Protandim)
J. Money contacted earlier this week and asked if I had anything juicy for a guest post. I try not to miss an opportunity to reach a new audience. So I agreed… as long as he comes back from SXSW with some good stories to share.
I'd like to introduce you today to LifeVantage Protandim. I was introduced to it from someone spamming from a mailing list. His first email was to convince me to buy into his MLM coin collecting business. Sign up for a subscription service and you'll have coins shipped to you every month. Get enough others to sign up and you get your coin for free. It's pretty much an unsustainable pyramid scheme because you usually have to recruit 10 to 20 more people to get your coin for free. Each person along the way typically overpays.
I decided to have a little fun and play his game. We chatted for a bit about the industry and how this coin collecting was great – you'd actually be building assets each month. Two weeks later, I got another email from him. He's moving on from the coin collecting thing, and now wants to sell me Protandim. According to him, "Protandim is the only anti-aging supplement that is clinically proven in 6 university studies to reduce oxidative stress to the level of a 20 year old." I remember thinking, "Of all the types of stress I have, oxidative is the least of my concerns."
This got me curious. Why was he so down on the coin collecting business? He didn't like building assets anymore? I can understand if he likes Protandim, but he could sell both, right? Nope. MLMs have non-competes, you can't sell both coins and anti-aging pills. That makes about as much sense as a Charlie Sheen interview – without the "winning" aspect. What is this Protandim pill and is it really as special as this former coin salesman says?
A brief history of Protandim
Protandim was invented by Paul Myhill, who has an undergraduate degree in theology and a graduate degree in business. Back in late 2003, LifeLine Therapeutics (later renamed LifeVantage) announced that it had signed a deal with Ceremedix for the peptide CMX-1152 and it would be trademarked under the name Protandim. In April of 2004, the company announces that it would create a Protandim CF as it could get the version to market in a matter of months, while the CMX-1152 would take a year to bring to market. Protandim CF is a combination of 5 herbal ingredients (such as tumeric, green tea, and milk thistle) that you can buy from Amazon. In my Protandim article, I calculated that a consumer could spend about 34 cents and get three times the quantity of the ingredients as a $1.50 Protandim CF pill – and this is just buying off the shelf on Amazon. The CMX-1152 would never make it to market and future press releases pretended like it never existed. Ceremdix went out of business. The Protandim CF got shortened to Protandim and the company pushed forward.
In late 2004, Dr. Joe McCord took a 10% ownership in Protandim and he begins a clinical human trial on Protandim. In the June of 2005, McCord's study is accepted for publication in the journal Free Radical Biology & Medicine (FRBM). FRBM is published by the Society of the Society for Free Radical Biology and Medicine of which Joe McCord was President from 1990-1992. He currently sits on the International Editorial Board of the journal. The human trial started with 29 subjects, but after 30 days was down to 20. After 120 days, there was data from only 10 subjects. No reason for the ommision of the data from the other subjects is provided. To this day, no further human trials on Protandim have been conducted.
In October of 2008, the company announced it would change the distribution model to network marketing (a pseudodym for MLM because MLM had garnered a poor reputation for being a scam). Around the same time, more studies were be published in FRBM about Protandim, these taking a step back from the human trials and involve rats and effects in test tubes.
In March 2009, Paul Myhill inventor of Protandim admits that they hired McCord because of his background, saying "Because the core composition came from a very unlikely source – me – we initially decided to hide that fact for marketing purposes and instead rely on the impeccable background of Dr. McCord." In the same interview Myhill says, "Big Pharma (through its proxy, the FDA) doesn't allow supplements to make any disease claims, I think it's important for the scientific literature to make those claims for us. Most people can then make the connection and understand how Protandim can be a positive part of their health regime."
Does Protandim really do what is claims?
To date, every published article of research has Joe McCord's name on it – many of them in which there are no stated conflicts of interest. Myself and commenters on my blog, found that the grant money used to conduct some of the research was intended to study Protandim. In addition the company has questionable financial standing. It has been trading under a dollar since September of 2006 and is an over the counter stock. The market-capitalization is $52 Million (as of 3/4/2011). From a recent 10K Protandim pinned a lot of hopes on sale of tools to its distributors saying, "we began sales of kits, marketing materials and other sales aides to distributors in addition to the sales of Protandim." It will need all the help it can get judging by the 3M they have in cash on the balance sheets and the negative numbers. Those seem like really low numbers for a truly revolutionary anti-aging product to me.
So I'm back to where I was with MonaVie, trying to fight the good fight in order to educate people about these scams. LifeVantage Protandim distributors argue with me each day, sometimes for hours. The saddest part is that these are the victims of these scams, and they don't even know it. They end up spending thousands of dollars on product, tools, conferences, and end up with a business where 99% of people lose money. I could go on about Protandim, but this is probably too long for J. Money anyway. Plus, there's a new MLM scam in town called One24 – it promises you retirement income in 24 months.
————–
Guest post by personal finance blogger, Lazy Man and Money. Thanks Lazy Man!
("The Pill Gang" photo by Yannick_Bammert)