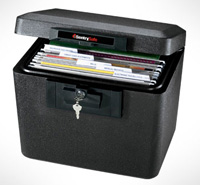 What up, what up my savvy friends! We got another cool giveaway to throw at ya today — PERFECT for anyone who worries a lot and/or who are just plain ol' SMART (like me ;) I've been rockin' the safes for 5 years now! W00T.)
But today, unlike the time I shelled out $100.00 for mine, we are giving away one super sleek Sentry Fire File 1170 Safe!  Which not only stores files and documents nice and easily for you, but also has enough room to plop in a mess of other valuables too — like wads of cash, jewelry, passports, etc etc. As long as you don't cram in 100 hanging folders or anything ;)
I thought about setting one on fire just to put it to the test (they sent me one to check out and keep too), but the Mrs. sadly talked me out of it… something about me being immature or something, oh well.  Guess you'll just have to take their word for it ;) Here are the product details from their site:
Key lock for privacy
Fire protection for digital media, tested for 1/2 hour up to 1550°F
Lifetime after-fire replacement guarantee
Manufacturer's limited warranty
Proven UL classified – 1/2-hour fire protection
Want it? Answer this quick question below, and you'll automatically be entered to win:
If you could only grab ONE thing in the middle of a house fire, what would it be?
We'll announce the winner (via Random.org) this up and coming Sunday night, Mar 20th, and then get it right out to ya! In the meantime, check out some of the more hilarious types of safes I've found over the years – there's no shortage of cleverness!
PS: I'll be giving out another Sentry safe in my VIP Newsletter this week… if you're not a subscriber yet, might be a good time to join!
————————-
*GIVEAWAY OVER* The winner is… John (commenter #144)! Congrats!  Be sure to store all of your important stuff in there ASAP :)

************
Bonus tip: Find a good "balance transfer" offer to help pay off debt faster!
If you've been making payment after payment (on time) and still haven't been able to get your debt under control, snatching up a good balance transfer credit card offer may be the ticket to try. That's where in order to gain your business - credit card companies will let you transfer your existing debt to a new card and let you pay ZERO PERCENT interest on it. Saving you tons every month!
What's the catch? Usually balance transfer cards charge a fee (around 3% of your debt balance) to let you transfer your balance to their 0% interest offer. But we've found a great credit card that will let you do a balance transfer absolutely free. Click here to learn more and see if you qualify!
PS: If you don't trust yourself with another credit card, ignore this! This strategy is to help you get out of debt quicker, not risk adding more to it.