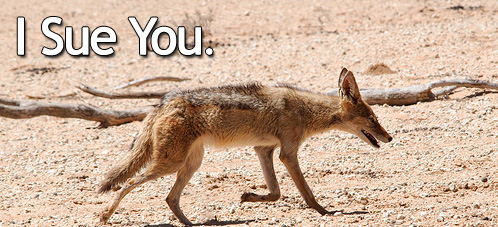 We have hired an attorney! Time to put up a fight, baby!!!  It's now been  2 1/2 months since we got laid off and those ass hats STILL haven't given us our last paycheck.  Bunch of turd buckets… What kind of people steal 80 hours of work from their colleagues?? Over Christmas? Blech.
I just don't understand why people can't act like normal civil adults and do what's *right*.  I get that companies lose money and go out of business, BUT it doesn't happen ASAP, and especially when you're backed by million dollar investment companies.  Those jackals have been quiet for 1 month now without even the slightest peep about paying us. In fact, you know what the last thing they said to me was, actually??  "If you don't return the stolen merchandise, we will go after you" — HAHAHAHAHA!!!  Give me a break.  Like I'd ever do something stupid like that… and when they found the culprit? (which I knew who it was all along) – nothing.  Not even a "sorry."  Just plain ol' silence as if I never even existed…  guess that entire office moved itself the week before!!
So, yes — we have taken up legal and a nice little letter is currently in the works to start the process.  All half-dozen or so of us are teaming up and apparently there's a whole mess of fines that add up every day that goes by without pay. Not that I really care about that to be honest with you (all I want is my WELL-deserved paycheck), but I guess it helps us when starting out with a high dollar amount.  That way if they knock us down and we have to fight back and forth in negotiations, we'll hopefully at *least* get what's rightfully ours.  Minus all the legal fees and what not too, sigh…  but we'll see what happens.  Either they get scared and pay us right away and we avoid all court action, or we have to fight the good fight till the bitter end!  Which we will all gladly do :)
It's the principle of the matter now. Time to stand up for our honor! I've accepted the fact I may never see that $3,000 again, but I refuse to lay down and let those corporate mongels tread all over us.  It's high-time to rumble, baby.
// End Rant
(Photo by Mister-E. Warning by J$)
************
Bonus tip: Find a good "balance transfer" offer to help pay off debt faster!
If you've been making payment after payment (on time) and still haven't been able to get your debt under control, snatching up a good balance transfer credit card offer may be the ticket to try. That's where in order to gain your business - credit card companies will let you transfer your existing debt to a new card and let you pay ZERO PERCENT interest on it. Saving you tons every month!
What's the catch? Usually balance transfer cards charge a fee (around 3% of your debt balance) to let you transfer your balance to their 0% interest offer. But we've found a great credit card that will let you do a balance transfer absolutely free. Click here to learn more and see if you qualify!
PS: If you don't trust yourself with another credit card, ignore this! This strategy is to help you get out of debt quicker, not risk adding more to it.