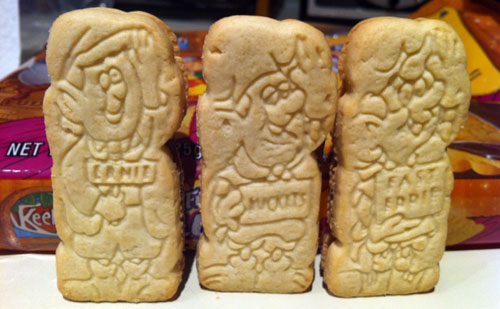 Wow yesterday's post was juicy! You mix in kids and child support (and ex's), and it turns into one helluva  discussion ;)  And is *exactly* why I love blogging so much! It's YOUR personal stories and advice that really gets us to stop and consider each other's perspectives. It's what makes personal finance, "personal!"   So thank y'all for chiming in and getting your thoughts out there. That was great.
It also reminded me of how fortunate I am! Haha… sure I've got a mess of problems of my own, but man – nothing along those lines.  So today I thought we'd go a bit lighter and celebrate some of the things we're grateful for. Particularly the small things that barely touch our wallets :) Happy Friday!
10 (Inexpensive) things I'm grateful for today
Frozen E.L. Fudge cookies. I'm literally eating one right now as I type, and it's melting in my mouth!  mmmm….. cost for such greatness? $2.50.  Level of happiness?  Ecstatic!
Fresh water. To quench my thirst after I finish chewing this cookie ;)  And although it is bottled water, the few dollars it costs is welllllll worth the joy. I don't care what you say.
Walks. By far my all-time favorite activity in the entire world.   Well, after the obvious ones (sex, traveling, beer-drinking). I would pay $20 for a walk every single day if it weren't free.
Internet. Not as cheap as the first few items, but relatively speaking the amount of output I achieve with that is beyond words.  My entire career depends on it!
Coffee! No explanation needed.  Even if you blow $5/day at you-know-where, it's still worth it.
Frozen strawberries. (yeah, I like things frozen!)  One of my all-time fave snacks is just eating them out of a coffee mug :) And then saving one to drop into a glass of white wine.  Sexy!
Intramural Football. A bit more expensive than the others here ($40/season), but still incredibly cheap for the output of happiness.  And great for health and exercise too, my goodness.  We just started our season last weekend and I cannot WAIT to get back on the field tomorrow!
Intramural Soccer. Football on Saturdays, and soccer on Sundays!  Power weekend supreme!
Skype. I freakin' love it. Adding video on TOP of chat?  Daaaang… power play right there. Been only rockin' it for a few months now, but it has completely changed my life.  When your bizness partners are all across the world (*ahem* Cambodia, *ahem* Wisconsin), it makes your life MUCH much easier.  And cheaper too! (If you both have accounts, it's 100% free to connect)
Music! Hip-hop, Rap, Classical, Reggae, Pop, Country – got a style for all my moods ;) And ain't afraid to blast 'em out my cadillac windows either!
That last one is special to me.  Just like close friends and family, music is there for you no matter what you're going through in life.  They can take away our money, but they can't take away our tunes!
What are you thankful for today?
************
Bonus tip: Find a good "balance transfer" offer to help pay off debt faster!
If you've been making payment after payment (on time) and still haven't been able to get your debt under control, snatching up a good balance transfer credit card offer may be the ticket to try. That's where in order to gain your business - credit card companies will let you transfer your existing debt to a new card and let you pay ZERO PERCENT interest on it. Saving you tons every month!
What's the catch? Usually balance transfer cards charge a fee (around 3% of your debt balance) to let you transfer your balance to their 0% interest offer. But we've found a great credit card that will let you do a balance transfer absolutely free. Click here to learn more and see if you qualify!
PS: If you don't trust yourself with another credit card, ignore this! This strategy is to help you get out of debt quicker, not risk adding more to it.