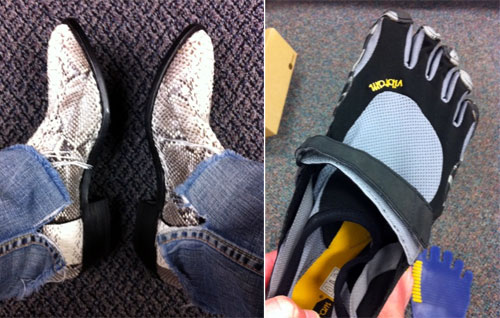 I did something this weekend I haven't done in a very long time: I splurged. Twice ;) I had no intentions of actually doing so (isn't that always the case?), but I gotta admit I felt pretty damn alive in both cases!
One of the things I've been trying to work lately is going with the flow and accepting new adventures whether it costs a lot of money or not.  I'd never go totally overboard and just wipe out my entire financial game plan or anything like that, BUT I will spend more than I'm comfortable with if it means I get to try out something new and get that "rush" that's been harder and harder to achieve lately – mainly because I keep trying more and more stuff out and having to top it! Haha… and since I rarely spend any money anyways on top of the usual monthly bills, this is a luxury I'm fortunate enough to have when opportunities decide to show up :) (I owe it all to you, budgeting!!)
But enough about my excuses… Let's talk about my new outfits for my feet! As you can see from the picture at the top, we're merging a little country with a little modern up in hurrr this week. None of which probably goes with my mohawk! Haha… Check it out:
Opportunity #1: The chance of being a cowboy! I didn't get the horse thank goodness, but I sure do have some kickin' new cowboy boots now!  Very first ones I've ever tried on too – it was a match made in heaven :)  And again, noooooo previous plans to pick 'em up or anything. It was one of those "in the moment" things where we were experiencing Texas and I had the sudden urge to follow in my dad's footsteps. Haha… he loves to wear 'em around the house and torment my mom who thinks they're hideous ;)  The only problem right now is that it's too hot to wear them since I can't put on jeans in this weather! Arghhhh…
Opportunity #2:  The chance of being a weirdo runner!  Or Tim Ferriss ;) That's right, I'm the new owner of Vibram FiveFingers too!! Which I actually HAVE been curious about ever since Mr. Ferriss has been on the road show pimpin' them out, but I couldn't ever swallow the $100+ price tag.  So when I happened across a $69.00 sale with NO sales tax (we were on a military base – w00t!) I snagged them right up!  Which is funny because they're the complete opposite of the cowboy boots I previously picked up the day before ;) (If you're not familiar w/ what these are, click here.  They're pretty much gloves for your feet which are supposedly healthier for you to walk or run in.)
Again, not the most practical use of my money when you look at that needs vs. wants scale we're all used to abiding by, but you better believe I'm gonna strut the crap outta them! :) And that's exactly why you have those "Do whatever the hell you want" accounts set up anyways. To splurge and not feel guilty about it! Not saying it always works out that way – most of us are built to feel bad cuz we're always in save-save-save mode – BUT I'm a firm believer in allowing yourself to let loose every now and again and enjoy life a little more. If you don't abuse it you'll retire just as happily! If not more!
Now, who wants to tell me about THEIR most expensive shoes they've ever bought? ;)
************
Bonus tip: Find a good "balance transfer" offer to help pay off debt faster!
If you've been making payment after payment (on time) and still haven't been able to get your debt under control, snatching up a good balance transfer credit card offer may be the ticket to try. That's where in order to gain your business - credit card companies will let you transfer your existing debt to a new card and let you pay ZERO PERCENT interest on it. Saving you tons every month!
What's the catch? Usually balance transfer cards charge a fee (around 3% of your debt balance) to let you transfer your balance to their 0% interest offer. But we've found a great credit card that will let you do a balance transfer absolutely free. Click here to learn more and see if you qualify!
PS: If you don't trust yourself with another credit card, ignore this! This strategy is to help you get out of debt quicker, not risk adding more to it.