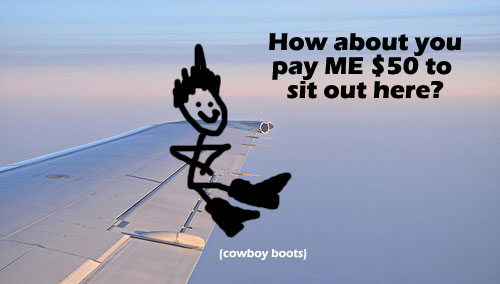 I'm pretty sure I've blogged about this before, but spending more to save more always drives us personal finance bloggers crazy ;) Especially for people like me who sometimes fall for them, and then have to report back to you about it! Haha… but luckily this story ends the way I want it too. Despite being tempted like a mother. (Are you proud of me Frugal Gods?)
The point of almost caving occurred yesterday when I went to check in for my flight back home to D.C. It was approximately 9:45 a.m., and I was in front of the Airtran crew when one of them asked if I wanted an upgrade to Business Class. "Heck yeah!" I proudly exclaimed, as if it was high school prom all over again (I was actually asked out by the girl, talk about hot!). "That's so sweet of you" I gushed, "Thank you so much!"
Of course, she wasn't asking me if I wanted it for FREE – no – she wanted to know if I wanted to PAY to live like a king for those 2 hours on my way home ;) But I figured if she was trying to up-sell me, maybe I could out-CHARM her? Haha… yeah, I lost. BUT, I did not fork over that money! And she almost had me too.
You see, the upgrade only cost $49. Which, if you think about it, is pretty damn good. Comfier seats, free drinks (including alcohol – which is unlimited!), free food, and the chance of feeling like a rock star when everyone walks by you wondering if you're famous or not, haha… (you know you do that ;)) BUT, and this is a big but here, once you become a first/business class passenger you no longer have to pay to check in your luggage! Saving me a cool $20 right there on the spot. Which, of course, was her main selling point. As she stared at me wondering why I'd need an entire suitcase anyways traveling for only 2 days as a guy. But what can I say – I like having options! :) And it's not like TSA would let me bring on all that hair care product anyways even if I wanted to. Pshhh…
So to recap: If I spent $50 more right then and there, I'd get free baggage and a sexier seat on the plane – all the while "saving" me $20 in the process. Pretty tempting, huh? (Would YOU do it?)
Well, you already know that I turned it down. Whichever way you look at it, I'd be PAYING more to SAVE more, and in this instance it just didn't make sense to me. No matter how good of a deal it was. I didn't feel like dropping $30 more dollars all spur-of-the-moment like that because I'd rather be putting it somewhere else (that's what HE said?).
It reminds me of all those Express coupons and other "Spend $100 and save $20!" deals out there too. They're awesome as hell if you were planning on dropping $100 anyways, but 9 times out of 10 it just gets you to drive over to that store faster to pull even more money out from under you. Same with BOGO coupons (Buy One Get One Free) and the rest of their cousins. If you go into a place with a budget of $50, and come out spending $85, it doesn't matter how many extra doodads you got cuz you STILL have to find room for that extra $35 you dropped now! And don't even get me started on Groupons, haha…
But my point here isn't that coupons or bad, or deals are made from the devil – no. It's just that you REALLY have to watch what you're doing and ask yourself before making spur-of-the-moment decisions if these extra expenses align up okay with your game plan. If they do, or you have padding in your budget – great! Spend spend away and live it up! If not, calmly avert your eyes and continue on your merry way exactly like you would have done anyways.
I've learned a long time ago that it's OKAY to leave deals on the table if they're not directly involved with my goals. Cuz all it means is that I'll have even MORE money to throw against the ones that do when those magical times present themselves! If you can learn to prioritize and block out as much noise as possible, you'll be a financial rock star in no time. And it won't require a first class seat either ;)
———–
(Photo by jronaldlee. Doodle by J. to the $)
Featured savings tip
You already know that banks pay $$$ for the privilege of holding your money…it's called interest. But maybe you didn't know this: that so-called interest can be as little as .01%. If your cash savings aren't sitting in a high interest savings account that earns you at least 1%, you're basically saying "no" to free $$$!
Now, obviously the 1% interest you get with a high interest savings account like the one at Discover bank won't make you rich, but that extra 1% compounded over 30 years can grow into a *big* pile of cash. And if you wanna hit lofty $$$ goals, you should be looking for every edge possible.
Here's another way to look at it: if you leave $50,000 in a regular savings account, that's almost $500 you're just throwing away, each and every year you don't setup a high yield savings account! Will you do 5-10 minutes of work right now to earn an extra $500/year for years to come?
If you said "heck yes", then you can setup your high interest savings account here to start earning 1% on your cash savings.