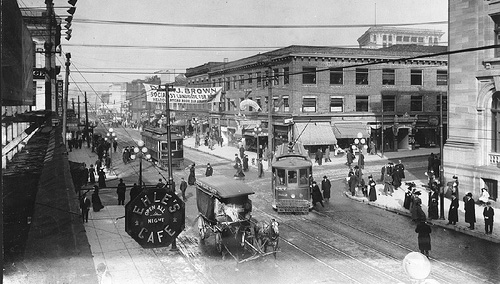 OMG this is a good one :) Big props to NPR and Brad from Time's MoneyLand for circulating this around – very clever!  I was starting to run out of some good ones over the years, haha…. so here we go – a new Would You Rather! Courtesy of MoneyLand:
Would you rather:

A. Live in 1900 and make $70,000 a year.
or
B. Live today and make $70,000 a year.

If you choose A., you get to be super rich; your income is roughly equal to $700,000 today. You get a mansion, servants, the whole deal.

Choice B. means you aren't rich, but you're not poor — and you don't have to worry about being crippled by polio, or killed when a cut on your foot gets infected. You also get cable TV and air conditioning.
Haha… those are some pretty hardcore cons ;) I immediately chose to continue living in modern times, but I gotta admit it was pretty tempting thinking about being rich like that. You could be one of the first to pimp out a Model T! Haha… or pretty much buy whatever you wanted back in the day. What would be even BETTER, however, is if you could bring your own brain w/ all that knowledge back there! If you know all the secrets of technology and ways to avoid certain diseases, maybe you could last a longer more fruitful life? Would suck losing all your friends and family though… hmm… too many variables…
What would you go with on first instinct? Tempted one way or the other? If you're not already making $70k, I think you have an easier call to make ;) So pretend you'd keep making whatever it was you are, haha… would you live in today's world with $35k forever, or be super rich 100 years ago??
Other things to keep in mind: No internets back then, no microwaves, no pet rocks, and everything was in black & white ;) Wouldn't you miss color???
—————
Previous Would You Rathers:
– Would You Rather… Millions vs. Teleporting
– Would You Rather… Sex vs. Money
– Would you Politically, and Publicly, sell out for $10,000?
(Photo by Seattle Municipal Archives)
************
Bonus tip: Find a good "balance transfer" offer to help pay off debt faster!
If you've been making payment after payment (on time) and still haven't been able to get your debt under control, snatching up a good balance transfer credit card offer may be the ticket to try. That's where in order to gain your business - credit card companies will let you transfer your existing debt to a new card and let you pay ZERO PERCENT interest on it. Saving you tons every month!
What's the catch? Usually balance transfer cards charge a fee (around 3% of your debt balance) to let you transfer your balance to their 0% interest offer. But we've found a great credit card that will let you do a balance transfer absolutely free. Click here to learn more and see if you qualify!
PS: If you don't trust yourself with another credit card, ignore this! This strategy is to help you get out of debt quicker, not risk adding more to it.