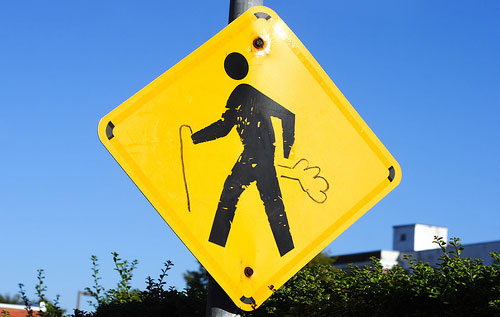 (Guest Post by Barbara "Babs" Wagner)
A great deal of what J$ says is right on.  Paying off debt, saving for retirement, and tracking what you spend so you can make better choices are great advice.  Don't even get me started on Love Drop, his very personal, hands-on approach to charity.  I'm in love with Love Drop.
But Mr. BAS is dead wrong about one thing:  when he says, "I get CRAZY bored reading about finances by old white men in blah styles," he makes me CRAZY crabby.  Truth in advertising — I'm a sorta old white woman, who prefers to dress in "classic" (okay blah) clothes.  But don't write me off just yet.  We old farts know a few things you might want to know too:
Invest in your health, not just your 401K.
In my 20's, I ate crap, smoked like a chimney, partied endlessly, drank to excess, never worked out, and told myself I could always lose the weight later.  (Man, some of that sounds pretty good.)  Somewhere along the line I learned that "later" wasn't going to be much fun if I was in poor health.  Think about it, which sounds sexier—rocking a hard body in your 50's, with plenty of energy to enjoy your modest wealth, or visiting a doctor every other week to deal with your stress, weight, diabetes, arthritis and intestinal problems and little energy to spend the millions you've piled up?  Have you ever listened to old people talking about their health problems?  It isn't pretty.  Give me the hard body any day.  (Seriously, if I wasn't happily married, I'd really want a hot guy more than money.  Not that my husband of 22 years isn't totally hot.  That's why we have air conditioning.)  Try to fit in just a little healthy living, on your way to being a millionaire.
Every choice you make is two choices, you just don't know it.
When you choose to save, you are choosing not to spend.  When you choose to spend money on one thing, you are choosing not to spend it on something else.  Any choice is a good one, as long as you choose what you really want.  It's a fabulous idea to save all your money for retirement in your 20's, because time and compounding will make you rich.  Unless you really want to experience a little world travel while you're young enough to do it with just a backpack and good hiking shoes.  Being rich in memories is a terrific goal.  It's also fine to spend a third of your income leasing a beemer, unless you'd really like to have enough coin to actually date women who like guys with beemers.  Any time some "expert" recommends a particular action, ask yourself what you won't be doing if you make that choice.  Same goes for any bright ideas you come up with on your own.  As long as you know ALL of the choices you're making, you'll do fine.
Do it now!
If you wait till you have "enough money" to leave home, get married, buy a house, make babies, invest, or anything else, you won't do anything.  There's never enough money to do things perfectly, but there's always enough money to make a start.
I get it, the lousy economy is making things extraordinarily difficult for 20-somethings. But putting your life on hold and living with your parents in your 20's is a special kind of hell.  When I was in my 20's, (oh God, I'm about to give you the classic old person "back in my day" speech) unemployment was at 8%, inflation was in double digits, and wages were crap, even worse if you were a woman.  I lived in a crummy apt. in a scary part of town, wore clothes from the thrift store, and ate a lot of ramen.  Man it was fun!  I was living my own life, humble as it was.
My first attempt at investing was $50 savings bonds, because my employer would deduct $25 from my paycheck to buy them and I couldn't easily spend them.  My friends with enough money to invest in mutual funds thought I was pathetic, but it got me started on achieving financial freedom.  (And it turns out the bonds have paid 6% every year for over 20 years and are the best investment in my portfolio.  Hah!) If you're lucky enough to find true love, don't wait till you can afford a wedding–get married and eat ramen together.  Money doesn't buy happiness, but love absolutely does. If you and your soul mate love children, have them when you're young and you'll be young enough to enjoy your grandchildren too.
Whatever your dreams, get going now!  Don't try to figure everything out before you take action.  You will never hear an old person say, "I just wish I'd waited longer to find my bliss."
————–
Babs is a former poster child for financial misadventure, who learned most of what she knows the hard way.  She has a degree in business and has studied personal finance, most of which she now ignores.  Her mission is to poke fun at conventional wisdom, keep money subservient to her values, and inspire others to learn from her mistakes.
She is currently busy trying to convince her sons to leave the nest.
(Photo by JonDissed)
Featured savings tip
You already know that banks pay $$$ for the privilege of holding your money…it's called interest. But maybe you didn't know this: that so-called interest can be as little as .01%. If your cash savings aren't sitting in a high interest savings account that earns you at least 1%, you're basically saying "no" to free $$$!
Now, obviously the 1% interest you get with a high interest savings account like the one at Discover bank won't make you rich, but that extra 1% compounded over 30 years can grow into a *big* pile of cash. And if you wanna hit lofty $$$ goals, you should be looking for every edge possible.
Here's another way to look at it: if you leave $50,000 in a regular savings account, that's almost $500 you're just throwing away, each and every year you don't setup a high yield savings account! Will you do 5-10 minutes of work right now to earn an extra $500/year for years to come?
If you said "heck yes", then you can setup your high interest savings account here to start earning 1% on your cash savings.