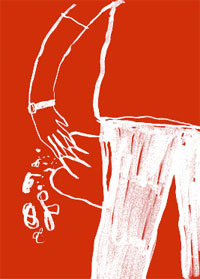 I've had a few people bring up that phrase lately, and it's all rather fascinating to me.  Cuz in all honestly, I have no idea what that means! Haha… like, I just don't get it?  If you have access to easy money, you have a better chance of spending it??  You can't control buying things just to buy them?
Now maybe I'm a bit cuckoo over here (don't answer that), but personally I only spend money when there's something that a) I really want, AND b) comes across as a good value (to me).  Whether we're talking about fancy cars or baseball bats.  I'm not gonna go out and buy a Benz just cuz I can.  Or a thousand sticks of gum since I have an extra $100 sitting in my pocket. I could be totally oversimplifying things here, but I think you get the point.  Which is that it's weird for me to understand ;)
I'm trying to dig up the "old J. Money" to remember what HE used to do back in the day, but I can't really recall spending more just cuz I had more in the bank.  I mean, I DID spend a lot more when I got raises or promotions, etc etc, but that's more about lifestyle inflation (which SUCKS btw and keeps you in the rat race — increasing your spending as you increase your income, it's not a pretty thing if you don't manage it).  Is that what people mean when they say they'll "spend it if they have it?"  If that's the case, then yeah – I used to do that all the time!
It probably goes into that whole notion that you'll spend more w/ a credit card than you would with cash too, I bet.  Which I still have yet to prove it's false, haha… well, at least for me. I'm not gonna challenge the billions of data that says it IS worse for your cash flow…. I just gotta grow the balls and give it a shot myself once and for all!  I really think I'll spend the same whether it's in dollar bill form or fake credit card money ;) I'm just too comfortable w/ all my perks and conveniences those plastic little bastards give… but I dunno, maybe one day I'll try it for real?
Anyways, what do you all think about this?  Do YOU fall into that category of spending more when you're hanging on to more money?  Is this the same thing as lifestyle inflation?  Or am I a dick for saying "I don't get it?"  Haha… It's okay if you think so.  Sometimes I'm SO enveloped in this money stuff (both thinking about it AND blogging about it 24/7) that I tend to escape reality every so often. Every now and then I need my "reset" button pushed ;)  Now go and spill your thoughts!
—————
PS: There's a good convo we've got going on at my Facebook page too if you want to join in.
(Painting by Elliot Stokes)
************
Bonus tip: Find a good "balance transfer" offer to help pay off debt faster!
If you've been making payment after payment (on time) and still haven't been able to get your debt under control, snatching up a good balance transfer credit card offer may be the ticket to try. That's where in order to gain your business - credit card companies will let you transfer your existing debt to a new card and let you pay ZERO PERCENT interest on it. Saving you tons every month!
What's the catch? Usually balance transfer cards charge a fee (around 3% of your debt balance) to let you transfer your balance to their 0% interest offer. But we've found a great credit card that will let you do a balance transfer absolutely free. Click here to learn more and see if you qualify!
PS: If you don't trust yourself with another credit card, ignore this! This strategy is to help you get out of debt quicker, not risk adding more to it.