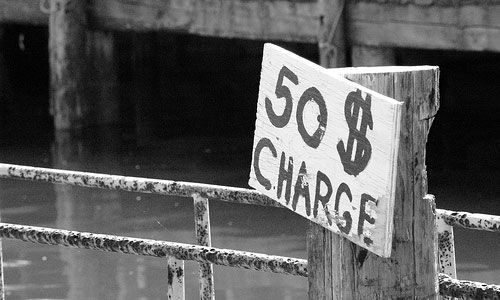 I was dozing off to Money magazine last night (cuz it was 3 a.m., not cuz it was boring! haha…) and one of the blurbs was on the their readers' most hated fees and price bumps – which of course snapped me right back up ;)  Who doesn't love to complain with their fellow man every now and then?
Here's what their 7 most annoying fees were – from worst to least-worst:
Airline baggage fees  — Hands down my most hated one too. Without a doubt.
Premium increases on employer health insurance — True true… but you know what's worse than that?  Having to pay ALL of your health insurance! You entrepreneurs know what I'm talkin' about…
Fees on debit cards — Oh yeah, wtf?  My wife used to get charged 50 CENTS every time she swiped her M&T card. Isn't that insane?  To access HER OWN money??  She switched to pushing "credit" at gas stations, and saying "Debit" whenever asked for that or credit, and using her EXACT SAME CARD the fees magically disappeared.  Just for saying a different word, ridiculous.  Double check that YOUR bank isn't charging you for this too!!  At least Bank of America TOLD their customers about their $5.00 debacle, unfortunately not all banks do (or I should say, their representatives. Every bank is *supposed* to tell you all the rules and fees/etc when you sign up, but when put in practice not all customer reps care to divulge every last dirty dirty – it's up to YOU to pay attention.)
College tuition hikes — Haven't been involved in anything college-related lately, but I can only imagine how loony these are getting over the years.
Netflix price change — Haha… I think I'm one of the only 3 people left in the world NOT signed up w/ Netflix, so this one didn't phase me at all ;)  Not that I see the big whooptie-doo anyways.  It still seems like a helluva good bargain to me!  And actually we're considering finally giving it a shot this month… the DVD portion, not the streaming one or whatever.
New or higher annual fees on credit cards — Yeah new fees suck on everything really, that's a given.  Never affected by "yearly fee" credit cards though since I always make a point NOT to sign up to them in the first place.  That make me either an idiot for losing out on all the extra rewards they give (??), or crazy smart cuz I never pay a penny for any of 'em!  I like borrowing all that money for free ;) They make my budgeting life much much easier.
Bank overdraft protection fees — Hmm… isn't this service usually free?  You just link your savings or credit card with your checking account, right? If you're paying for it, I think you need to change banks.
I think these above are a good start, but there are a few more the wifey and I would like to add to the list too.  Though mainly her, since I try not to break the law as much she does ;)  Maybe you've got some good ones to add too?
Speeding tickets — They always get you when you least expect it! Or you're late to something! ;)
Parking tickets — But if there's anything we hate more than speeding tickets, it's PARKING tickets.. arghh… and usually because we're more mad at ourselves for getting caught than anything else (Am I right?). Though the wife once got a $250 hit cuz she didn't want to walk home late at  night and all our spots were taken outside our house… she ended parking on a yellow line at 3 a.m., and when she came back at 6 a.m. to move it she'd already been ticketed!  Don't think she remembered that cop that lived around the corner from us ;)
Tolls — I don't mind these *as* much as all the others, but the only time it really gets you is when you either end up in the WRONG lane and you can't get to the cash one in time, OR it's 100% electronic and no coins or dollars are accepted at all!  If you're  not paying attention, or you're not from around there, it's super easy to get caught before you can do anything about it, and next thing you know you have a nice fat bill at your home 3 weeks later.  Who can ever like that?
Coat checks that cost money  — I feel like if you're running a restaurant/bar/club/whatever in the middle of the winter, then you should be able to provide this simple service charge free if we just shlepped through it all to get there. It's not like you can go around w/out a jacket or anything,  unless you want your wife/mother yelling at you for it (Hi mom!))
What did we miss?  Any of these bring up any sore memories for you too?  Nothing like a nice bitch-fest on a cold Monday morning !;) Haha… Happy Holidays!!
—————
(Photo by zappowbang)
Featured savings tip
You already know that banks pay $$$ for the privilege of holding your money…it's called interest. But maybe you didn't know this: that so-called interest can be as little as .01%. If your cash savings aren't sitting in a high interest savings account that earns you at least 1%, you're basically saying "no" to free $$$!
Now, obviously the 1% interest you get with a high interest savings account like the one at Discover bank won't make you rich, but that extra 1% compounded over 30 years can grow into a *big* pile of cash. And if you wanna hit lofty $$$ goals, you should be looking for every edge possible.
Here's another way to look at it: if you leave $50,000 in a regular savings account, that's almost $500 you're just throwing away, each and every year you don't setup a high yield savings account! Will you do 5-10 minutes of work right now to earn an extra $500/year for years to come?
If you said "heck yes", then you can setup your high interest savings account here to start earning 1% on your cash savings.